Wow Limey. I just hatched out a 30 gram baby and thought that was small. That is really tiny. I hope it thrives for you.
Wow, even my rat snake babies are bigger than them. I don't suppose you have gotten it eating yet?
I have had corn snake hatchlings bigger.
@limeysmidger what are you going to feed, little pink mice?
New morph! Dwarf ball python!! Seriously though, the perspective with the coin is perfect! You can tell how tiny it is, I have had one at 32 as my smallest, but I know a few who have had like a 19g and a 20 something go on to be perfectly healthy great eaters. Yours looks perfect, just incredibly tiny!! Wish you the best with it!
Omg so itty bitty! Very pretty hatchling (and of course its diminutive size makes it all the cuter), I really hope you can get it eating and thriving! I know small hatch size isn't necessarily indictive of future poor health, and it looks fully developed (to my admittedly untrained eye), so hopefully it will do well for you.

I saw the thread title and my corn snake brain went, "That's not tiny at all." Of course it is, and it's adorable. Hope the little one is a great feeder and grower.
Wow! I had a small one hatch at 34g and thought it was tiny!
Beautiful Itty Bitty Noodle!

Gorgeous. I hope it eats and thrives for you. It has the best chance with you that's for sure!
Update?
I just cut my first clutch and all of them are tiny. I'm going to weigh them once they crawl out of their eggs. I'm nervous about them thriving.
Could have had a lower temp in the incubator and then cut slightly early? That may have accounted for the whole clutch looking tiny? Also it is not a big deal if you cut early and they need to stay and develop in the egg another week or two. I have seen breeders cut at day 45 just to see what they have with no issues, just might have to mist lightly over them because they can dry out faster. Some info on temps and cutting day and a pic(if you can without disturbing them) might help!

I cut at day 60 and incubator temp was 89. My girl just laid small eggs. They haven't crawled out of the eggs yet. I knew they would be little due to the small egg size to begin with lol. I'm nervous about them thriving. I'm a total newbie with everything.
Your temps and cut day seem fine. Did the eggs dimple and dent a lot before day 60? Do you have a pic of the clutch right before you cut? It is hard to tell from that pic. but they may be fine and just smaller, from the eggs and genetics. I have a girl breeder that I hatched at 32g and she is still small at 1100 at about 6 years but breeds fine for me! She usually has smaller clutches, but her babies are usually in the normal range of 50-60g So could just be genetics. Or they could all be underdeveloped for some unknown reason. If there was a severe temperature fluctuation for a period of time that could have caused deformities or halted development maybe? Just make sure the eggs don't dry out, let them come out on their own. You cut great windows, I don't think any healthy babies will have a issue getting out. Will have to wait and see. Hope all goes well, please keep us updated.

So, turns out I was worried for no reason. My babies are coming out of their eggs and all about 65g. I've never seen hatchlings in person so thought they were on the tiny side. Sigh of relief

they arent exactly big, but nowhere near the "tiny" category.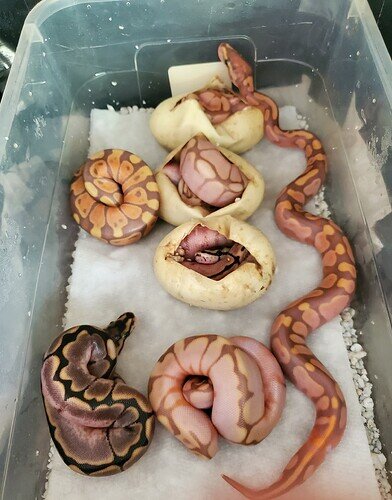 Look great to me! My average weight of hatchlings is 50-65 so those are also normal good sized babies! Congratulations to you!


Thank you! I'm very excited. I love my new little ones.
Congratulations! They look very healthy! Beautiful, too.