Hey there, first post here!
Basically a few months back someone surrendered two corns to me, and I have a strong suspicion they were sold as a pair (and potentially have compatible hets). However, I was given what morph they were and I'm not sure if it's accurate. There is also a third corn that was surrendered to me a bit later by a friend, but they are taking forever to find her information. I'll give some info on each of them under their pics!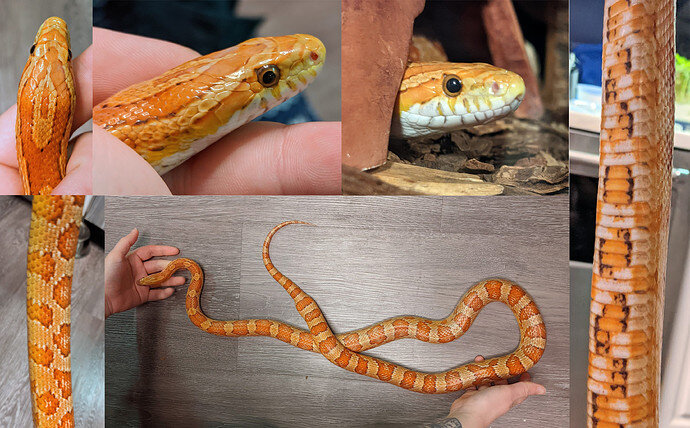 This is Tequila, a female 2016 corn. She is very overweight (her hips certainly don't lie), and currently brumating. When I got her, the dude told me she was a Sunkissed. She last weighed in at 816 grams.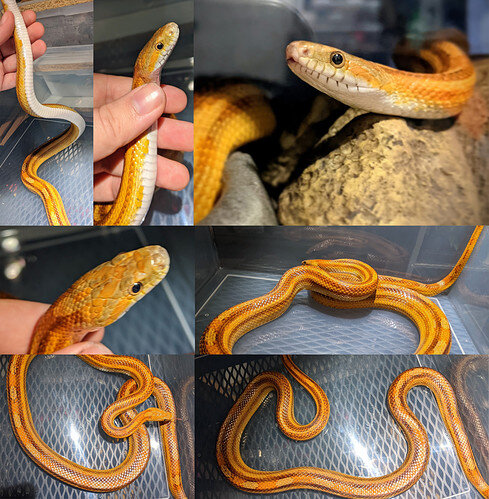 This is Kahlua, a male 2016 corn (and an asshole). I was told he was a Striped, but I have my suspicions he may be a caramel striped (or maybe even motley as well) because he has a green-ish hue. Unfortunately, my camera didn't really capture it! He is a bad eater and currently 331 grams.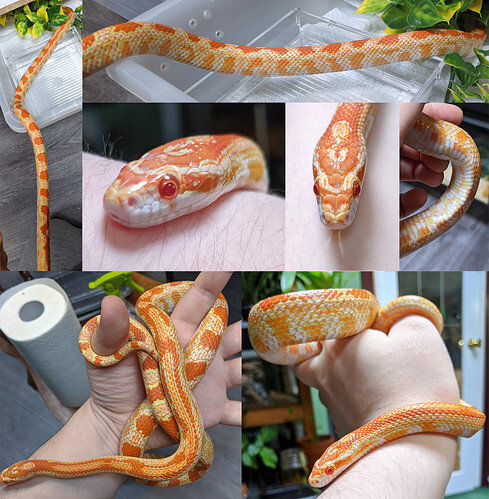 And lastly, this is Irva, a 2019 (I believe) 285 gram female. I was told she was an amel Tessera. One really interesting thing about her is that her sides have a pale fluorescent green section on them.
I appreciate all the input I get as I definitely want to have a better idea of their genetics before pairing them up (the two 2016s). Since most corn snake photos are juvenile, and the ontogenetic color change can make them look very different from the adults!
(If the photos are a bit crunchy I can post links to the full-sized file!)