After seeing @westridge ask for a changelog of genetic updates over here i thought it would be nice to keep everyone up to date with changes we are making here on the forum.
So as some may have seen we added the Carousel Images component a few days ago.
You may also have noticed social links on the header bar…


These will take you to MorphMarkets Facebook and Instagram, where we will soon see content from here promoted more often.
You will also see a new footer at the very bottom of your screen with useful quick links to various parts of the MorphMarket universe…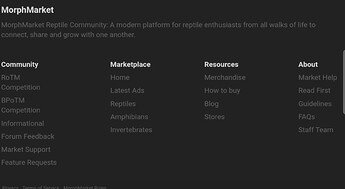 As more things are updated I will add them here.
If anyone has any questions or suggestions on visual changes feel free to drop them here.

---
TLDR Changelog:
Dec 2020:
---
Jan 2021:
User card directory.
"Website" changed to "MorphMarket Store".
Added social fields.