I bought the trick I was looking at

Show us some pics when you receive your new addition!
Eh, just not my cup of tea lol never was a fan of lemon blasts, they brown out too much for my liking. But not everyone likes what someone else might like, there's so many morphs to choose from
That's why you bring an extra copy of pastel to the table and make killer blasts.
Everything browns out at least a little, that's why having good stock is so important. But yes, to each their own.
DG doesntand there is sumpin new coming with DG combos and I tink I already have part of it
Yes! Exactly, DG is the only gene in my opinion that keeps their contrast and brightness into adulthood. I'm very excited to be producing a lot of DG hets and vusuals this season. And I already started a double het project with DG, just gotta wait till the girls mature

Glad to see another DG enthusiast

Hypo does age well also and it isnt as drastic as DG but the DG HYPO combos seem to age better than just DG on its own and I only work with DG AND HYPO and my other project is pied Hypo but I'm gonna have DG into that SOON as my DGs get to size
hypo is also a good one, pastel dg is one if my favorite simple combos, i have a male that is being paired with a dew of my girls thus season. good luck on the double het project

I'm doing clown DG, and eventually Axanthic DG.
Would love to see some of the stuff you produce, they will be stunners for sure!
Two over hyped morphs I can think of would be bananas sorry banana lovers, but I can't stand them. Hateeeee those ugly black freckles they get. Another one for me personally I can't stand would be axanthics. I think they look horrible. Look great as babies with those awesome greys. Unfortunately it doesn't stay most turn into brown blobs.
Most*
Gotta invest in your genetics so you hopefully get ones that don't. But I know what you mean many are unrecognizable
Its all about what you put with it, regular axanthics aren't that great looking but it can look amazing in certain combos. Same for bananas, I find that Enchi and lesser almost completely reduce the freckles. Im not a fan of the freckling either.
Here's my lesser banana, He's over a year old and I have yet to see a single one on him.
He's from a lesser x banana pastel enchi pairing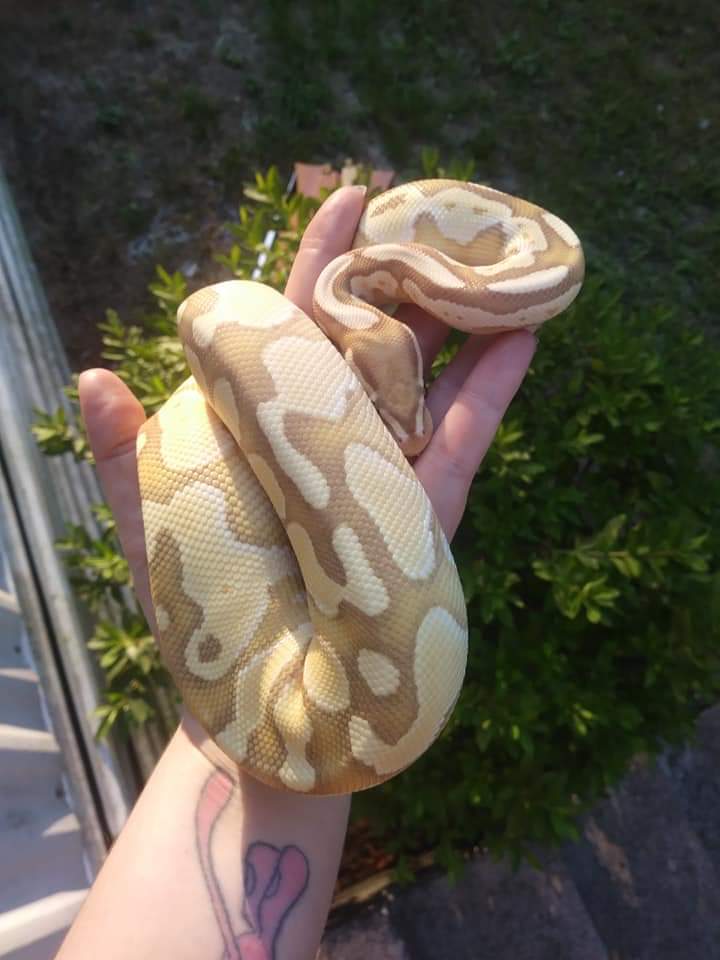 Get out.

LOL
I will say I was hoping Penny would develop freckles but he hasn't yet. When I picked him up at NARBC the other bananas with him in the display case had freckles, but Penny was the most active and so I wanted to see him. I didn't know Banana and CG, at the time, were the same gene just different lines of it.
I like the freckles as well personally it's unique.
Congrats! Very nice girl!




I said I'm sorry banana lovers. I can't stand those freckles. To me they look like ticks or fleas. They just give off that dirty appearance. Anyone that knows me knows I appreciate and love clean clean animals. No unnecessary marks or spots. Reduced pattern and no freckles lolol. Axanthics I have yet to find an adult I'm remotely interested in or appreciate as an adult.
This post was flagged by the community and is temporarily hidden.
Sk and MJ don't brown out as much like VPI does and JD Constrictors does some AMAZING stuff with it…if you havent checked it out already you should
I have seen all the lines brown out but it's what we talk about all the time. QUALITY.
Get quality examples of the morph and they will age well. No different than getting a good pastel as opposed to a bad one right?
I feel personally attacked

both of them morphs are high up my list with banana being in my top 5. I love them freckles. But you are right, both of them only look good as babies, and as I've not owned either yet I rarely see adults that remind me of how ugly the do get.