[Add a picture of yourself or your animals
!here]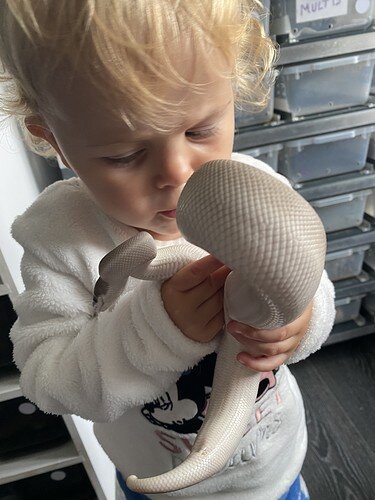 I can't find a picture of me holding a snake

but I have this picture of my beauty granddaughter holding a purple passion .
Hi everyone, I'm jay but Knick named frosty

so I go by that

I've been in to reptile since the I was able to walk,

in the garden bringing in worms 🪱 and frogs

spider

etc . At 6 years old I had 2 slow worms (legless lizards) with a little help with my dad we successfully bred them . That day on I was hook on Reptiles and Amphibians. At the age of 10 I got my first ball python . I worked in a reptile shop from a young age helping at weekends until I was old enough to work there full time . I've kept and bred many reptiles over they year corn snakes , kings, garters , ball pythons ,boas , leopard gecko's , bearded dragons

panther chameleons and many more . I've had a pet iggy too . I am knowledgeable but very open minded and always love learning . I'm not just set in my old ways . I got into breeding ball pythons

morphs around 2009 and have been in and out of it since . I have about 120 ball pythons

at the moment. Had some fantastic seasons and looking forward to this coming season. I be honest with you I'm obsessed

with reptiles ball pythons

in general. I've learnt a lot along the way and I'm still learning , we are all learning every day . Open minded, knowledge is the key to success. Always there to help , advise others I love the hobby and I like to gain more friends that share the same obsession.
Frosty