Oh ok! I mistook flail for feisty! lol!
Fresh pics of Turnip and Daikon after they've finished successfully digesting their first meals. After they've had a few more meals, they are going to be headed over to @caron's house to live with her! I absolutely adore both of these snakes. I love Turnip's crazy head pattern and Daikon is a perfect example of a cinder, in my opinion.
Daikon is a little blurry in the hand held photo. She has a hard time sitting still.

Awwwwww. Look at my sweet babes! Is Daikon a female as well? How is her steadiness been lately? Still flip floppy? They are both so pretty!

Yes, both are actually female. I just held Daikon for a couple minutes today. She did okay, just a little jerky mostly!
Well either way she will be fine here with me!

Congrats Caron! I'm sure you're gonna love your new babies!
I'm so glad to hear that Daikon is doing better. Hopefully with more handling the jerkiness will go away entirely?
Yes we will see. I may have my vet check her out just to see what she thinks. I also have another of Olivia's, Reese, aka Little Dot! So he will be welcoming 2 new corn sister siblings! And not to forget little Turnip girl with the crazy head pattern!
Here is "Little Dot":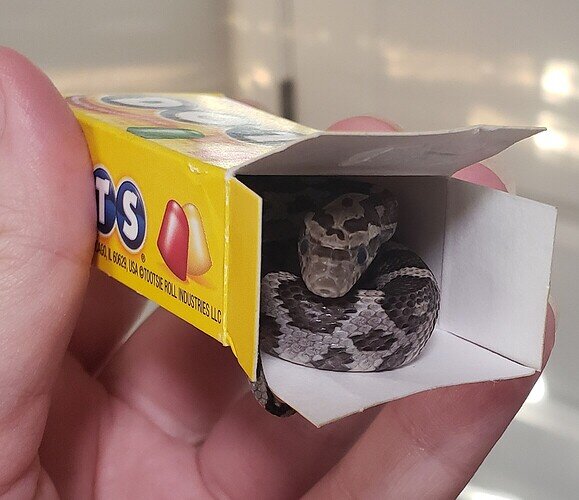 I doubt it will ever go away. But I do think that as she calms with age and getting used to handling, she hopefully won't have intense panic reactions to being handled.
Hooray for all those wonderful, feeding babies! Congratulations, Olivia! And congratulations to Caron on her upcoming additions. I know that these set babies will have a great home with you. Bonus - we'll get to watch them grow.

Dr Clarke might have some tips for my precious little Daikon but I believe she will be just fine in time. I am all ready for the girls and they will be adjacent to Little Dot. Maybe they will have a play date on cleaning day like my ball pythons do! lol! The rest of my crew are all different so I can't do play dates with them unfortunately!

Thank you @metalheadreptiles! I am looking forward to bringing them into my home. Little Turnip as the craziest head markings I have ever seen!

Meal number 2 for Turnip and Daikon. I think Daikon is actually the best eater of the group. She strikes her food right away, but then takes a little while to get her body and head in the correct position for eating.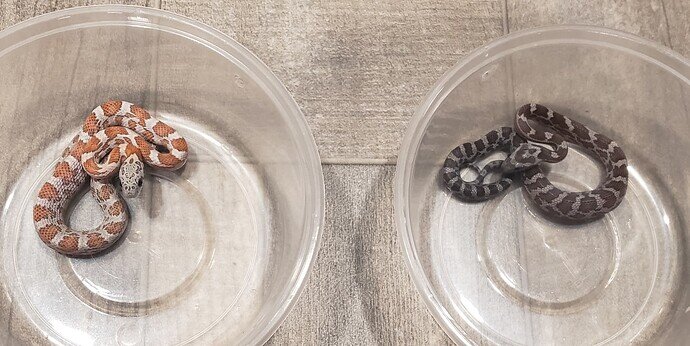 Hooray! They will be home before I can blink twice! Keep on eating girls!!!


Yay! They look like really healthy babies! Congratulations on 2 more eaters Olivia!
And four more tonight! Which makes all but one from this clutch taking their first meal. Glaive, the only one who has refused, will be left overnight and maybe she'll have eaten by morning.
Cudgel
Arbalest
Trebuchet
Tomahawk
Congrats on all the eaters! Fingers crossed that Glaive ate over night!
She did not, unfortunately. Not worried yet and still really pleased with these clutches! I will offer her a boiled pinkie in a few days.
Hooray for so many babies taking that first meal! That's always such a big sigh of relief. Hopefully Glaive will get with the program on her next offering.