I can't believe what arabesque does to sunglow
Thanks guys. I was surprised at how much pink he had going on his back, like a light spray. Not sure if that's the kubsch red pastel or coral at play but I'll be stoked if it keeps filling in as he ages.
You should just send him to me now. This way, you don't have to invest in a good security system to keep the rift raft out of your house that will want him.

So maybe you should not let me know where you live either.

@tommccarthy Tom. Are you kidding me? Those babies would be unimaginable!


Ha!
I don't know Tom, all the pink they'd make might cover up the patterns

That girl is amazing!
I want to stick him to Pinky my RC Pastel hypo poss het Kahl. It won't help me prove her super but even if she doesn't prove kahl I think it'd make some cool RC/KRP super hypo, arab, jungle animals. Now you got me thinking about motleybesque with Jade too

I'd love to do something with RC psatel in the future man, such amazing colors. Tom's sunglows, Argentine boas, VPI are just a few I'd love to add to the collection
I hear ya, those are some of my favorites as well but my list just never seems to stop growing haha.
I got to enjoy a couple of these girls yesterday at dusk. Made for some cool pictures.
Terra RLT

Phoenix

Lucy in some fresh skin

@smite I'm not a professional snake breeder/keeper by any means so I'm not sure how much weight this holds, but your boas are some of the best looking boas I've seen! I know I've said it before, but I still can't get over Phoenix. She's stunning!

What morph is she? I just love her red coloration and clean pattern
You do have one fantastic looking collection of boas. I like some of yours better than mine. You and me both like ladder tail boas. And any boa with lots reds and orange colors in them. We will have to do some trades in the future. I hope to have some killer sunglow stuff in 2 years. Maybe even next spring. I'm just not sure if I plan on breeding this season.
Fresh shed this morning so naturally she's wedged herself in her cork bark tube hide so we can't see her. Princess.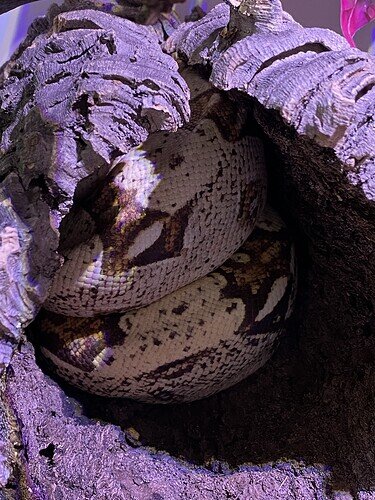 Might be time for a bigger bigger cork bark tube. She split it down the top.

Sure looks comfy! That's tough, I know we all get excited to see that fresh skin

Thanks for the kind words @starchild26! My favorite part about Phoenix is she has no morph at all, not even het for any recessive traits. She's just a straight pastel boa. Pastel in boa constrictors is produced by lines of selectively bred animals. The lines are bred over generations to achieve a certain look. This girl was produced by Corey Padilla, who bred his Gray Rushin Pastel Jungle to a RC Pastel. Pastels tend to be more colorful because one of the standards is breeding to reduce black. That allows more color to come through, washes/blurs out the side medallions and makes a really clean looking animal. Sometimes they can look like a hypo at first glance due to those traits.
1 exception is Marron pastelism, thats an incomplete version of pastelism in boas. The super marron's are incredible looking.
I agree we do have the same taste in boas Tom. Thanks for the kind words! I buy what I like that I can afford haha. Your Motley Junglows are my favorite I've seen to date! From my experience of trying to photograph albinos, I can only image how much purple/pinks those have in person. I would love to trade down the line. I was thinking of doing my first pairing this year but I'm not gonna lie, I'm getting cold feet about it. I know some breed males pretty small but the size difference between my two and my girls over active feeding responses has me a bit worried. I love all my boas, I'd hate to see something happen to one of them.
Any tips for introductions?
Feed both first, then after a few days, put the male in with her. Always put the male in the female cage, not the female in the males cage. There is less stress on the female this way.
Keep a close eye on them to see how she act around him for about 10 to 15 minutes. He should be moving around her and maybe even start rapping tails. I have other males who take a week before they start breeding.
If the male just wants to hide and stay away from her, take him out and try a different male.
I still feed all my boas when breeding. I just separated them for 3 to 4 day then put them back together. I give the female smaller meals when they are gravid. Most still eat for me when they are gravid.
I start breed in late September or early October and leave them together until January or February
If your male is a lot smaller, she may kill him by accident or on propose. Years ago, Xena, my 50+ lbs female, killed my 10 lbs striped male. Put them together the day I left for vacation. I believe she killed him that day or the second day
He was on the heating pad side of the cage for over a week. Boy, did my house stink.

I appreciate you sharing that knowledge Tom!
The temps have started to drop a bit here both day and night so I know it's around time to do it. They are both due to feed next week so I'll start to think about it after that. Good to know you feed during the season.
I just look at Ink, a '21, and he seems so chill. No signs of restlessness or searching at all, usually found in his hide. Blush on the other hand will tag her dangling heat probe. I worry if he were to just go chill in the hide then decide to come out it would be game over. I was considering pulling Blush out of the enclosure with Ink ready, that's about the only way I can get either of my VPI girls to click out of feed mode. Even then, if the tongue stops flicking I know they are re-evaluating the situation, haha.
Maybe one more year, there is a big size difference.
I like my females to be 5 + years old and over 15 lbs. 20 lbs would be best. Being gravid takes a lot out of them, and they need to be big and healthy.
@smite Thank you so much for the detailed explanation! I love learning about morphs (or in this case, the lack thereof). Maybe I should start looking into pastels as my next boa. I do love the standard boa pattern, and combined with the bright colors from pastel, that might be the way to go. I like Suriname boas for a similar reason - their color contrast is nice, and some are very crisp/clean. But they get too big for me to safely handle alone. Thanks again for explaining pastel. If I do end up getting one in the next couple years, it'll be your fault lol

Someone might be about to inquire with questions about a female 2021 VPI Snowglow

. More details coming later

Uh huh! Don't even go there with my corn population mister! Lol!