Got to hang out with @akmorphs at Arlington NARBC yesterday.
Check out this sweet bling: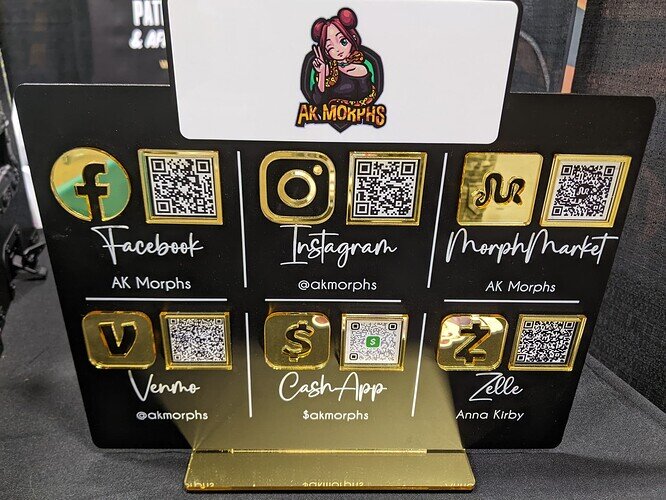 Fancy! Complete with QR codes, altho i barely understand how to use them. I just learned how to scan those not very long ago.
Pretty awesome! I stopped by and said hello to them as well.
It was nice to meet you in person!

I got it from Etsy!

That is freaking awesome!
Oh my goodness this is so dope! I would have loved to get to meet some of you! That would have been super cool.
Sweet find! That is really an awesome piece.
This is amazing! I'll for sure get something like this for my Enchantment Herps table next time I vend at REXPO.
I seen these before on Etsy they also have cool (LED) neon look alike signs. I think its important in a sea of venders where every booth looks similar that you really need to stand out and have brand recognition. If everyone in your row is selling the same animals and same morphs, you need something to draw people in to take a look. Ive been to many fairs and expos etc. ( not for animals though) ill tell you if you don't have something that catches myveye and draws me in, i may just stroll past your booth without a glace, i don't go to every booth at these events i go with what draws me in. So while you may have the most amazing animals, never seen before morphs, i may not even notice to swing in for cliser look. Brand recognition helps retain customers and aquire new customers through your reputation. So great job on the sign! Even a table wrap or a banner isnt enough for me if everyone has those. Of course thiscis just how i am but im sure there are others who browse like i do and im sure theres those who stop at every booth and look, i just don't have time for that.
Going to try not to go off topic here, but I'd like to ask what helps to make that difference for you? I hope to start vending 2-4 years down the road so I'm trying to stockpile ideas to help my name stand out.
It was easier for people to pay. It's always been cash or card at shows. Most people don't even mention cashapp, zelle, or venmo and I came across it once day on Etsy and I thought that would be a real game changer (and it clearly was lol). I take Cashapp, Zelle, and Venmo payments from people purchasing animals, so why not advertise that I do the same thing at shows? It also helps cut down on fees associated with the square card readers. I definitely recommend having something that shows all the methods of payment displayed if you ever decide to jump in and vend. It might be the tipping point of getting a new customer. I had a guy who didn't have cash, and he didn't want to use his card - but he did have Zelle!
I can understand people not wanting to leave card because of possible security breaches ( not say you have had or are not secure) i had my bank card # stolen and i watched as they drained my account buying things, i was on the phone with fraud department and saw someone charge a vacation in NY i was like see these charges are not me clearly how can i be in NY and California at the same time? Luckily i got my money back but it took 45 days. Zelle is nice because it is super fast and easy. When ordering online i prefer PayPal ( where available ) on Amazon i just have my CC but i know they are good about refunds.