Ranting about a situation I've found myself in recently, with a family member of all things.
TLDR; I'm pretty sure my sister played me into giving her one of my snakes, so she could steal him and sell/trade him for cash or illegal substances.
Full story: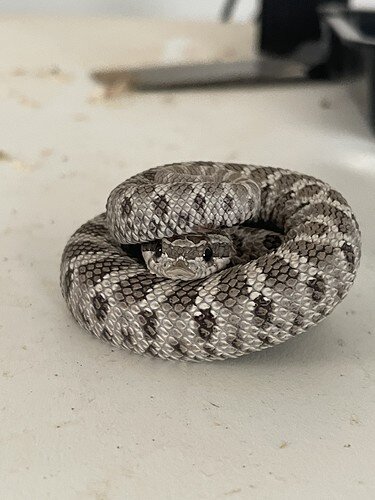 So, my little Moon, an axanthic het albino hognose. I thought he was a she, until I attempted popping her and a hemipene came out! Since I already have Blizzard, a visual snow, I didn't need Moon anymore and so planned to sell him.
I happened to mention this to my sister, and she asked how much. $500. Then she wanted to buy him from me. I told her to think about it (and was hoping in the meantime she would do research about hognoses… she didn't.)
It was odd because prior to that she had asked me how much hognoses usually are, and I told her the cheapest ones are usually around $200. She thought that was "too expensive." But now she was suddenly okay spending $500 on one?
A few days later, Saturday night (August 28th) she came in the reptile room while we were working on cleaning and feeding, and asked if she could take him. I stupidly agreed, thinking she would make payments on him as we discussed.
Set up the most basic tank setup, gave him a single hide and water bowl (which she never actually put any water in from what I found out from my fiancé when he checked his tank) and forgot the most important thing… a heat source. (This is why I know she didn't do research, or she just didn't bother because she wasn't planning on keeping him…)
Sunday rolls by without incident.
Then Monday, she casually comes into the living room a bit after we got up, claiming Moon escaped. Her story?
She was "cleaning" his tank because there was "too much bedding" in it. He was in a container sitting on her bed.
She changed her story on the container… first she said "I didn't think he would go anywhere because he normally just balls up and sits there" (which is true of him) and then said "I didn't think he could get out of that container"
Two problems with the "cleaning" thing…. a) I specifically told her hognoses need a lot of bedding to burrow in. Why would she need to remove any? b) Even if that was the case, she wouldn't need to remove Moon to spot clean the tank.
We also never saw any disposed of aspen bedding in any of the trash cans.
So, that night I asked her what container she had him in. She says, "I don't remember, ask me when I'm sober." (She was high on marijuana, somehow that makes her memory non functional.)
She also never made any true efforts to look for him, which honestly tells me right there she did something with him. Why would she look for a snake if she knows where he's at?
The next day, I actually asked her about the container again. So she goes and rummages through the cabinet, then the dishwasher.
She then points to a large bowl, saying it was "something like that one" — this bowl was used by my fiancé to mix seasonings into hamburger meat for homemade burgers.
She also revealed to me that she supposedly left him on her bed… while she had come to the kitchen to clean out the tank. Again, there were no aspen shavings in the trash can or on the floor.
This prompted me to check our camera playback, because if it was true, I should have seen her take a container out of the kitchen and take the tank into the kitchen.
I checked the playback for both Sunday and Monday, just to be super thorough… never once did she do either things.
So the cleaning story was a lie, there was no container she had him in. She knows where he's at.
So… I'm pretty sure she set me up so she could steal one of my snakes and sell/trade it for who knows what.
I don't know how to confront her over it, or if she'd even admit anything to me. She's still a minor so I can't just kick her out, but she did get CPS involved to force us to let her stay with us… so I might just ask they take her away because she's stealing from us and likely getting herself into a lot of trouble outside of the home.
I can't trust her anymore, and I'm just so upset… I don't care about money, but because I don't know where Moon is and if he's even safe…