Although I love python and boa species colubrids will always have a place in my collection whether it is for breeding or a pet just because they bring something different to the table in terms of personality, intelligence, and overall husbandry. I use to have two asian vine snakes and they weren't breeders I just wanted some as pets and I would sit in front of the cage and just watch then cruise around for hours.
Colubrids definitely are more "fun" to keep as pets I think. It's hard not to love them.
Man that's really cool, I've always wanted a Asain Vine snake, but they are hard to come by up here in MN. And I try to buy locally as often as possible.
White lipped pythons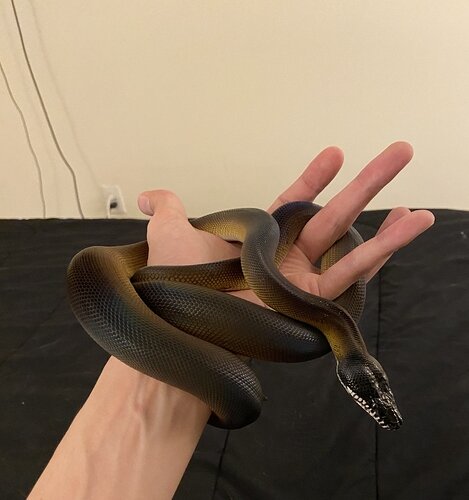 I know I'm late to the party on this one but here's my thoughts. I've bred ball pythons and honestly still enjoy the hell out of that. But if I had to choose one pet snake it would be a WLP.
They're challenging, smart, reactive and quick. They're almost like a colubrid in a medium sized python body. They're known for a ton of attitude but trust can be earned with the proper amount of respect. So all in all it's fun and challenging snake to own.
Can't say I'm not jealous with your choice. WLP are a dream snake of mine. As far as appearance, there are few that match their beauty. Definitely a damn good choice!
My favourites. Nothing special or hard to find.
Boa constrictors - I don't think anyone quite understands how placid these guys are until they own one. As long as they are kept healthy and happy, all they want to do is chill.
Garters - just the simple fact that they prefer to be in a community and you can watch them interact with one another.
I have to disagree there Tom…Boas are crazy special :). Most know Retics are my favorite, but if they didn't exist, Boas would be my numero uno. They are so docile and underrated! Definitely gems in the hobby.
Awesome point about garters too, as far as cohabitation species go, easily the most accepting of that keeping style.
Bismarck Ringed Pythons. When I was researching them, I saw so many horror stories where people were scared of them because of how cage/food aggressive they could be. But I was lucky to find a male hatching and a female yearling for a good price a few years ago. Never regretted it. They are in the same family as the White Lipped Pythons. Also just picked myself up a pair of Northerns. Gotta Catch Em all.

They are definitely a unique species that doesn't get much attention. Hard to find too.
I always think it's kinda silly when a certain species gets the bad rap for being food motivated lol. I always looked at it as a benefit instead of having to fight to get them to eat like some balls or arboreal species.
Those Australian species are some of the best from a certain part of the world I think. They have such a high concentration of crazy cool snakes that don't need any extra morphs to be valued or appreciated.
I didn't know you have Northerns too, you have some nice stuff Switch! Definitely keep us informed with those breeding projects.
I haven't kept snakes, so I don't have much to say in terms of care in captivity. However, I love:
copperheads, for nostalgic reasons
ringnecks, because they are wonderful and adorable and so so cute!!
ball pythons, because I identify with being a coach potato that curls in a ball when scared, that also has bizarre eating habits
gaboon vipers, because they are gorgeous, lazy, and irritable when disturbed
blood pythons, because blood pythons!!!
In the past I've babysat a common boa (I think- hazy memory, but definitely a boa), and we got along famously. I have zero interest in keeping any hot herps myself, but I think a lot of them are beautiful. I also have a bit of a soft spot when it comes to puff adders and king cobras.
Definitely cool choices Marla.
I'm not a fan of hot snakes, besides the medical applications they can provide which are essential, I don't agree or support them being kept.
But that aside, hot snakes are among the most gorgeous snakes out there I think. Just mind blowing color and contrast.
I think it's about time for you to get a snake Marla, just saying

.
If you ever did, I think a Rosy Boa would be a really good fit for your lifestyle. They are slow moving and usually docile little snakes.
Thank you so much! Yeah, I have been working with mine so they aren't very feisty. I literally just got the Northerns too, I'll post pictures later!
Do you recommend northerns or southerns?
Just something I have noticed is people tend to personally prefer one over the other. Do you find that there is a difference, in care or temperament?
They are the same, but southerns I have heard are more prone to being more laid back. But @unkn0vvn1221 would know better than me.
Haha!

I actually had a sticky note with recommended snake species on the wall next to my desktop for weeks! I finally had to take it down when I knew I wouldn't be able to afford vet bills (the irony!) for my elderly leos if I got a snake at the moment (I have a ton of leos over the age of 12 and maybe a half dozen over 16). I had always planned on becoming my pets' vet myself- d'oh! Once things stabilize a bit, and I've accomplished the move that was originally planned for this year, I very much so hope to get a snake. I've wanted a snake since 1998- I play the long game. Heh.