Definitely some kind of maggot, if you do have a fly issue, that's it. Considering the visuals, I doubt that this is a parasitic infection of any kind.
@noodlehaus That would definitely explain why I've never seen this, yeah these little darn fruit flys or whatever these little things are, but I didn't know they would do this. I'll definitely still be keeping an eye on everything.
I've had issues with them in the past and they can reproduce incredibly quickly, which makes them that much harder to get rid of. Just set up some of the traps, keep them refreshed, and you should start making a dent in them soon. Hopefully this is the only problem and Zeus' next poo is all clear. It's always unsettling when you suddenly find maggots anywhere, let alone in your animal's enclosure!
Wow those little creatures are really moving around. I'm just wondering if they are in fact maggots. I would be tempted to scrap that bedding and use paper towel until you find out what it is…….

In this case, they definitely are. The body shape, movement, location, and known fly issue all confirm. Probably first or second instar larvae.
I'm so glad to hear you've seen this before, because yeah let's just say I'm a little bit of a clean freak when it comes to all of my animals enclosures and I was literally freaking out when I laid eyes on those maggots, definitely was a big surprise. So I did spend the last part of the day cleaning out all enclosures changing all bedding to paper and disinfecting everything in all enclosures. But again you guys are awesome and I'm glad I know I have a place where I can get some advice and knowledge on these things I've never seen. So thanks again everyone! @logar @caron @noodlehaus @armiyana @cmills
No problem @jsmiffballs and come back often because this is a great place for reptile keepers and breeders alike!

Hey guys just a quick update, Zeus finally gave me what I was expecting to see. A solid poop nothing was moving and it looked very solid… and since I was told everyone likes pictures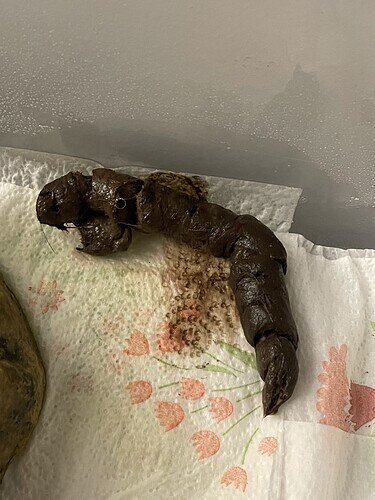 Cheers!!! Happy to see it I will still be sending it in just incase, but he's been on frozen thawed pretty much his whole life just like the rest of them so I'm pretty sure everything's great!
Yup! That sure looks like the epitome of a good solid stationary poop picture @jsmiffballs! So happy everything "came out" ok!


Fruit fly lava killed off my first attempt at isopods. This is all I can think of looking at the maggot.
For anyone interested who may not have had great luck using the vinegar and dish soap methods of killing fruit flies, I highly recommend these. I took a photo of my results after getting a bad case of them from leaving 2 non-alcoholic beers in my basement for waaay longer than I should have…photo is after 2 days of using the product.
Garsum Fruit Fly Sticky Trap for Indoor and Outdoor, Fungus Gnat Killer for Houseplant,Mosquitos, Flying Insect, White Flies, 18 Pack Amazon.com