Pictures after she sheds would be a huge help!
Will do. Hes a real pretty boy! Eye catcher.
I never seen a surge in person, just know they have tones of flames and blushing coming up from the sides, so not sure either way on that. By the pattern to me it looks like a nanny for sure probably a pastel nanny in my opinion.
Agreed. I do have whats looks to be a pastel nanny come out of the same clutch as well and thought the same thing. The snakes had similarities, but differences as well. I can provide side by side for comparison.
Please, mostly just because I love nanny stuff though! It's such a crazy pattern changing gene no 2 are alike!
Side by side.
Difference for sure.
Im mostly positive that the first is a pastel nanny surge.
2nd, pastel nanny.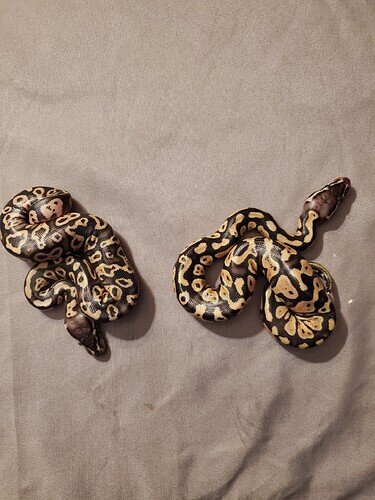 That is quite a difference! Have to see after they shed out see if the suspected surge gets all the crazy flames and brightness coming up from the sides! Nice! Thanks for sharing!