Some garters do have the personality of a venomous snake in my experience. I feel like Steve Irwin when he wrestles crocs whenever I wrangle a squirmy garter lol.
That's me in that car I think

:. We had the first big expo in the whole of Europa since corona about two weeks ago. I literally cancelled every plan I had for that weekend, set the alarmclock for the time ticket sales started and got online within 1 minute after they got online. I did feel kind of crazy but was happy I did. Within 45 minutes all tickets where sold, and their facebooksite was filled with messages of people crying out about the fact all where sold already. So at least I was not the only one that got crazy.
The expo was great, felt like a kid in the nicest toyshop possible. The minute the expo was finished new limitations started again because of the second corona wave which is coloring our country code red again, so no more expo's in the near future I'm afraid. But even though It might be a little crazy, next expo I'm again cancelling all other plans and set that alarm again. Yes…I'm really the woman in that car!!!

This post was flagged by the community and is temporarily hidden.
This craigslist add for Goldendoodle ball pythons is the funniest thing I have ever seen in my life. Not sure if the thread is the best place, but I had to share it. I don't even know how this happened
Edit: thanks for covering the email, totally forgot to do that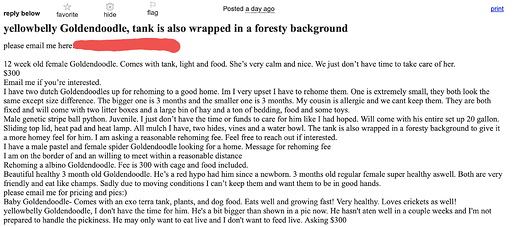 It's a pretty common fishing/scamming post on Craigslist unfortunately. We recently had the rare super dwarf reticulated Siberian husky in my area. Must have gotten bought up because it's no longer posted or else I would get the screenshots

Haha that post is just wrong and all over the place or this person has made the worlds first goldendoodle ball python hybrid. Funny part about almost every CL scam is that theh add way too much info some of which isn't even needed such as this person bringing up their cousin for no reason.
I figured it was probably something kind of bot that just came up with scam ads based on the most common craigslist adds, it's just hot a mess. Who wouldn't want a rare and elusive spider Goldendoodles morph?
Wow, talk about a terrifying invasive species…
Last one is definitely my favorite lol. I think for the colubrid world hognoses would also be on the right side too haha.