I think Boyd is a Hypo Mack Snow Tremper morph but if anyone thinks differently, I appreciate the information. Thanks!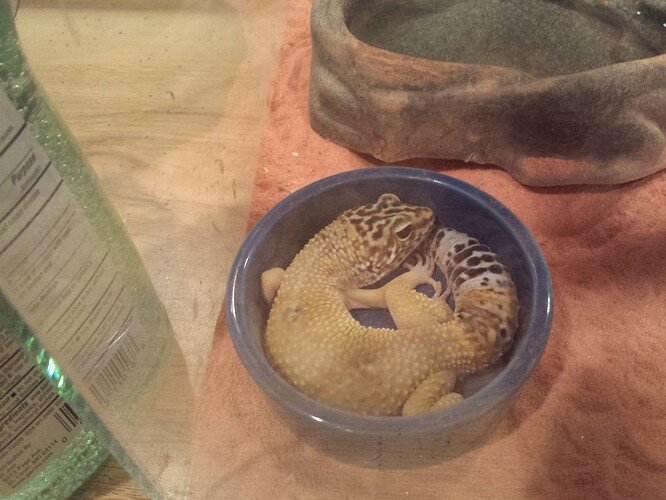 He is definitely a super hypo, can't say about the snow. In this picture he does not look to be albino, Tremper or otherwise, but a better pic would help me say for sure.
Does this help?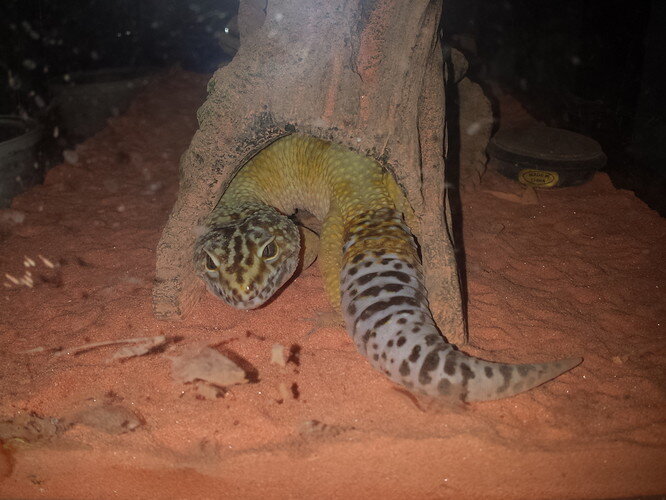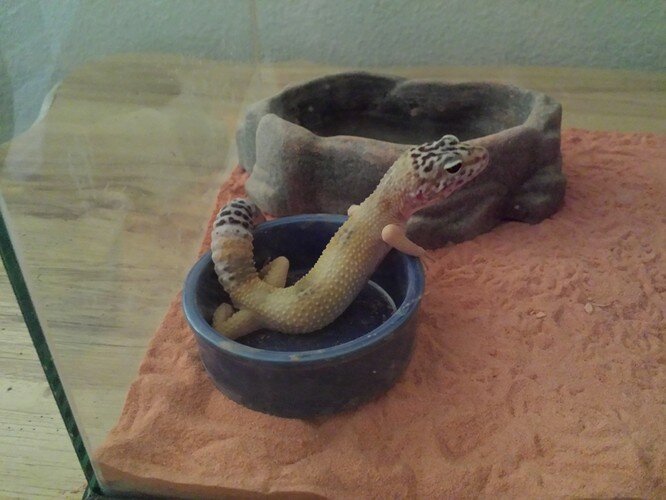 Note - I know he's skinny in the one picture, but he had developed an eye infection in both eyes from a stuck shed which unfortunately completely blinded him temporarily in both eyes, with one ending up being permanently blind. He was being hand fed nutrient gel so it was hard to keep weight on him. He's all better now with a nice fat tail.
I think it is just a super hypo with a tiny bit of carroting in the tail. I do not recommend sand but do your own research, I use coconut fiber but again do your own research.
I agree with everyone- impossible to know if Mack Snow is involved unless you know the morphs of the parents, he's definitely a super hypo, and not an albino (Tremper is a kind of albino). It also sounds like you need to give him a humid hide. I agree that sand is a poor choice and recommend either paper towel or slate tile. In the future, you should take him to a reptile vet when he is sick.
@geckokingdom @westridge @mblaney I know about the sand being bad but he never eats it and his mealworms are fed in a dish so is it still bad to have? I would love to get tiles but I have always feared making the investment and not being able to keep each side at the appropriate temperature (cool and hot).
@mblaney I did take him to a vet. Vet supervised his healing. Not trying to make excuses but he never had a problem shedding until the one that went bad. We had moved right after he started turning white to start his shed, so it took me by surprise when it was taking longer than normal, I just though it was stress from the move, not a more serious problem. He does now have a humid hide 24/7 with dampened moss inside and has had multiple successful sheds since and I make sure to pay more attention when he is shedding. I definitely learned my lesson. Boyd is a fighter though. They're so resilient. When he was blinded, he very rarely ran into anything in his tank, like he navigated from remembering the layout.
Everyone will have their own opinion when it comes to sand as a substrate for leopard geckos. It is my opinion that it's a unjustifiable risk to take, but then again I had a gecko that I had never seen eating perlite die of impaction & sepsis following ingestion of lay box medium. There are plenty of intelligent people that think it's perfectly fine, nevertheless I disagree. In my estimation, paper towel is the option that is most easily acquired, ideal for thermoregulation, easiest to maintain, and safest for leopard geckos. There are plenty of other suitable options, but I do not personally feel any loose/potentially edible substrate is a good idea.
I agree with everything that @mblaney has said. Sand is risky. They don't eat it, until they do. It can also cause bad sheds. Paper towels may not be the most attractive choice, but they are safe and make cleaning easy.
Well I appreciate the info. Will change to paper towels until I can find something else to line it with. I don't want anything bad to happen to him and I'm grateful nothing has happened so far.
I also completely agree with @mblaney and I even used sand for around a year and a half, and after switching to coconut coir (also controversial but I have done my research and experimentation) my 2 Leos have had a lot better sheds and have been healthier.