Isn't it fun to watch!

Yes he makes me laugh going in with so much confidence only to miss the catch😂
I wish Irwin would let me see him eat more. He's such a picky eater, he'll only eat crickets or Pangea with insects, and only when the lights are off and I'm not in the room

Totally get it my box turtle will not eat either if I'm in the room you just see aftermath!

So cute, I love watching them hunt.
I start off by feeding the first insect by tongs so they know the insects are coming lol
Good idea! I've been trying to have him learn his name I think that'll be great in the process!
Definitely fun. I have recently started saying the Geckos names when ever I get them out for a cuddle or tong feed as I hope to see if it makes a difference
Unfortunately it won't make a difference. I've been talking to Kaneki for years


He still looks at me like I'm an idiot haha.
I love observing them at night, especially if they are hunting. You can see the fire in their eyes! Something lights up

Here's Flavia with her prey, going up to hide and eat. Her eyes are shining!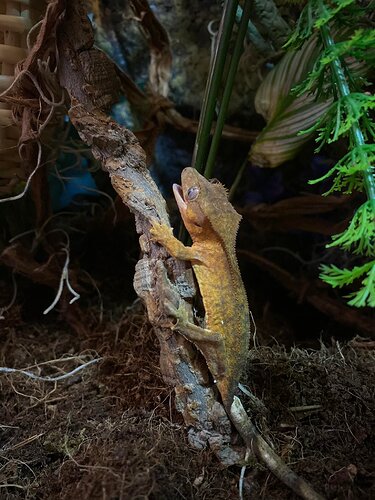 That's the face of happiness

Flavia looks so happy

What a nice photo!!!