How about Boo, Ink (because why not LOL), or Scaly Cloud
Mavis, Aledar, Lipia, Winifred, Riykufu
Indeed! Thin White Duke is a name I could pick for a white snake. Or maybe just Duke.

Snowball is from Animal Farm. I love that book.
Snake Name
Kai
Tawa
Fern
Alfredo (female snake is Pesto)
Casper
Ezio
Enzo
If I ever get a scaleless snake this is going to be what I name it (or scales, maybe both if I get two).
How about "Tusk" since it's an Ivory?
Looks like a cool enclosure too. Send a wider pic.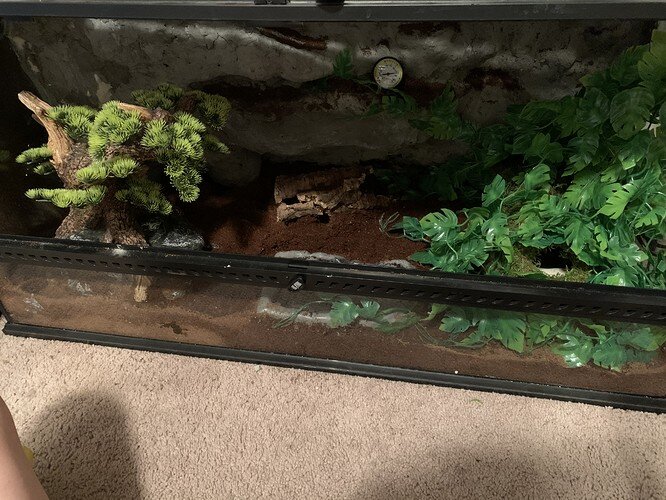 It's a work in progress still. I use to have live plants in the tank but couldn't keep them alive sadly.
Can you spot the snook
I tried using live plants in with our ball pythons, but couldn't keep them alive! I found it quite hard, yet my Cresties all have love plants.
Looks amazing!
What about Legolas, the Elf in the Lord of the Rings. Love these movies.
Shadowfax is Gandalf white horse in the Two Towers.
White Fang, the dog in The Call of the Wild. This would be cool.
Omg I use to love white fang…I might use that for a future reptile

I love the book. I did a book report on it in school years ago. I loved the movie also.
I was in a Pet Store last weekend and they had a solid white Siberian Husky with bright
Blue eyes for sale. It was beautiful. I thought of that name for him or her. No I didn't buy
him.
Lol White Fang is what I helped name a snake for @welshmorphology a little while back.
I forgot I commented on that and posted a picture I drew of the front cover of the book. LOL!
erie-herps , good memory.
Yeah lol, I was thinking @welshmorphology but is was also like 6am, thanks for catching my sleepy mistake.
I have "Duke" but he's fat lol
I changed my name by deed pol to Candice Bowie Perkins
I BOWIE everyday. Everything in my bipolar mad life revolves aroubd animals and Bowie. I am listening to Bowie now of course. "Criminal World" Let's Dance 1983