No not in the house. We are getting a new carpet chameleon shipped down to us. Should be here Thursday morning. Here is a preview of her enclosure. Her and her enclosure were paid for by a donation to the outdoor education program. We footed the bill for the rest.
It's an 18x18x36 with a good mix of potting soul and peat moss with several plants I couldn't identify if you told me the names. I know there's pothos! Also, some dairy cows and powder orange I scavenged from other enclosures.
If you look close, there's no door on it. I broke the plastic peg off of the top rail several days ago. Luckily Zoo Med sent me a new set and I got the door back on. Scary tense moment.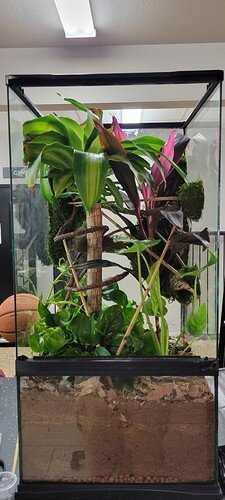 This one sits on the counter at my wife's job. Hence the basketballs in the background. It will probably evolve more with additional branches and limbs and maybe more foliage somehow.