Thankyou!
I think the 3 is enough now, all high energy, why did I do it

My Chickens have gotten to big for the chicken tractor i made for them.
I bought them a big pen and am building them a Coop. Will post pictures when I get done.
Can't wait to see the coop!
How could you say no to those eyes? She is beautiful!
I took a vacation day Thursday night, so I should be able to get back to building my chicken coop
and pen. I will try to post some picts of the build sometime today. I am maybe 50% into it now.
Tearing apart pallets is hard work, but save money in the long run.
How many chickens are you building for? One reason we selected our new home was the chance to have chickens. I'm thinking a half dozen moderate egg-layers here. Enough to keep us in breakfast, plus some payola to assuage the neighbors… Roosters are not allowed here, so I am trying to figure out how to make some cooking birds.
I have 9 hens and 1 rooster. The rooster and 4 of the Hens are Lavender Orpington's. It is a recessive gene, that is why I have a rooster so i can have
Lav babies. The other hens are 2 rhode island reds, 2 Rhode Island whites, & 2 cuckoo Marans. I though the 2 white ones were Leghorns, but I am not getting any white eggs. All brown or tan.
Can I see a picture please? I want to have chickens (only hens, for now) but I want to build the coop. Any food for thought?
I will take some pictues in a few minutes. I just got up. If you get adult
Chickens i get the layer crumbles from tractor supply. I think Dumor brand.
If you get chicks i started them off on chick starter with medicine in it. I think it was purina. Feed it until they were almost grown. Then mixed it with the adult crumbles till it was gone. I mixed some scratch feed too but they didn't like it to well. So i didn't buy anymore of it. I just recently bought a block for them. For extra nutrition. They love it.
We plan to only do it for eggs not the meat. If you know, we live in south Florida so it is hot and humid.
I do it for eggs but I want to raise Lavender's to sell. Dont plan on getting any more to keep.Those Easter Eggers are cool though. They lay colored blue green eggs. Oh, dont forget to get grit for them to eat.

K
How much is it costing you to build the chicken coop?
Damn that's a big coop. Love seeing things being made, it's fun making them


I ended up getting a 9 ft x 6 x 6 aviary for my quails. Need to sort it but they should have a lot of space


And they've got a double hutch for night times to be safe and contained!
I get pallets from work free. And some plywood if I find it before someone else does. LOL! I had to buy the 4x4 post (for legs), 1 4x4 piece of plywood (floor), the hinges, 2x2 42" L pieces (12), a lot of screws, A latch for the egg box, um I think thats it. Oh, and the barn paint (red) & brushes. I have plenty of tin to put on the roof. Had it for a long time. I also had to buy the 9' Wx 13' L x 6 ' T pen, it came with wire and tarp and all fittings to put it together with. I got it off Amazon.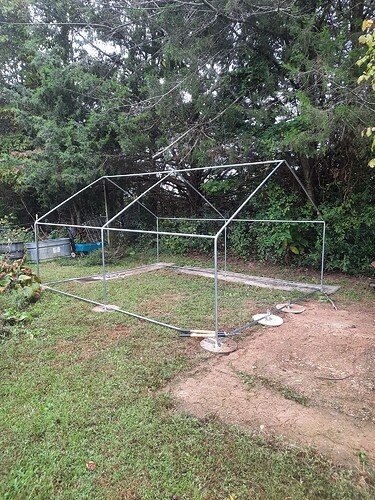 Keep the pics coming. How far along are we today??