I'm not sure how to word this correctly where I get my idea a cross, but I'm going to give it a try. It would be neat to have the option to view double/triple/quad+ het animals without having to search each individual recessive project or to type in the genes you're looking for.
I already know sellers will mark an animal het clown/pied (just an example), but it would be cool if in the search options you could have an option to view double + recessives. Like If I check the box on recessive only under trait types, I'd like to eventually see another dropdown option underneath it where it says "double het", "triple het", "quad het", "whatever name five het is", etc. so you can view ads that correlate to having the already relayed amount of hets your looking for.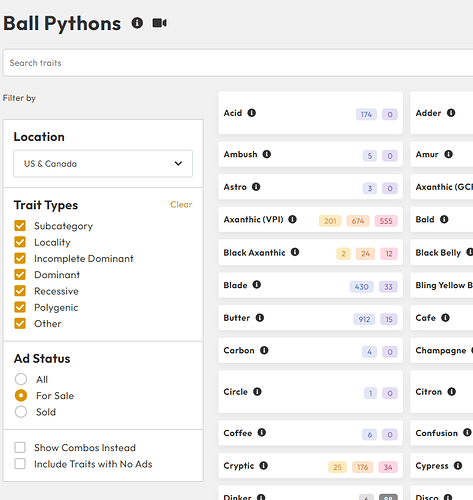 Then it's up to the person there to go view the ads that might interest them. I'd like to see what quad hets are available (since I know several people sell them), but searching for them is difficult. I can be off one by het and miss a completely badass animal.

Anyways… that was my idea. Sorry if it doesn't make sense >.<