Welcome to the community @bad-rabbit, I hope you like it here.
Thanks, I think I will, looks like a good place to learn
Trust me, it is a place to learn and grow. I will warn you, being here will influence you to get more of the reptiles that you love. I mean at least for me it did, I invested to breed high end boas. Can't wait to see what you get lol!
I definitely know what you mean, I started with 1 rough green snake and now am up to 23 balls and 1 corn. That's after selling some of the balls, have another 9 or so to go…before I see what I get next lol.
LOL, reminds me of a song. Sorry well off topic (or was it?)
.
So jealous of those beautiful big snakes in this thread.
My biggest Girl is only 2.5KG
Cant wait to have a big enough one to post here.
Sold this one, but she is still here. She weighs 4750g in this picture, but has been bigger in the past. She laid 19 eggs this year.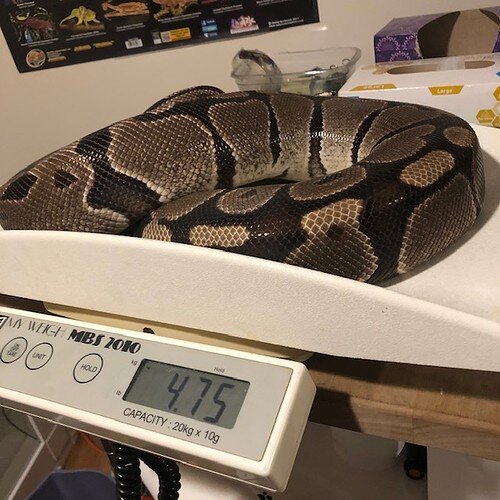 Holy cow! That is a big ball python!
Cannot wait to see how big my girl gets


All of these beasty girls are amazing!
Oh, go on, show me a picture anyway
Haha she's blooming tiny right now! I actually can't wait to have a big girl! My biggest and oldest is my boy Hideyoshi who was 2 this year.
This is Rikka, born July 27th so I have a long time yet…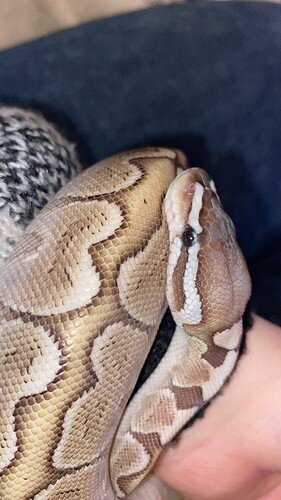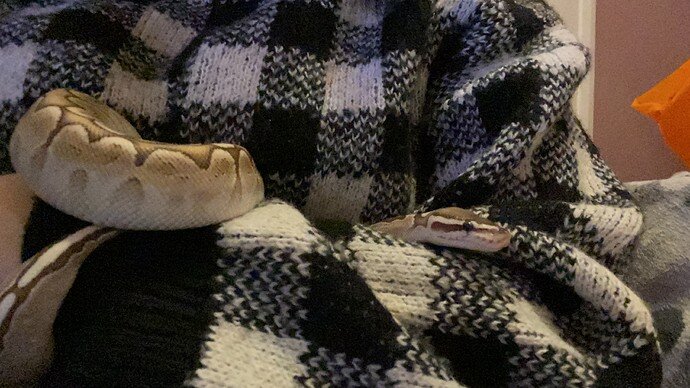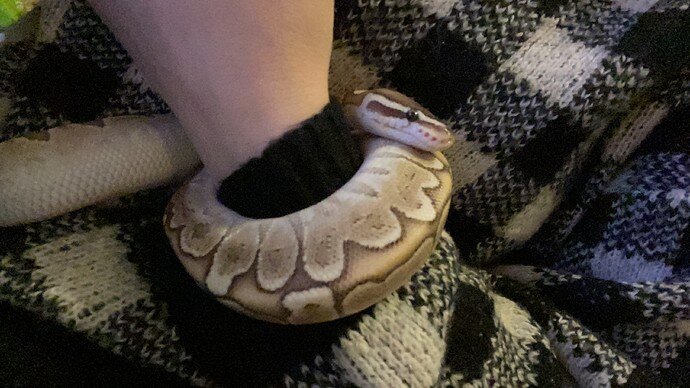 We were snuggling yesterday whilst watching a movie

She is on a diet been on one for a minute but she is freaking huge sometimes I don't think she is even a ball python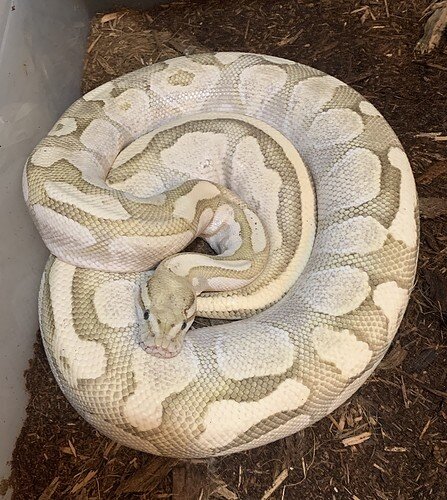 She's absolutely stunning!

3700g black pastel het pied (9 eggs this season)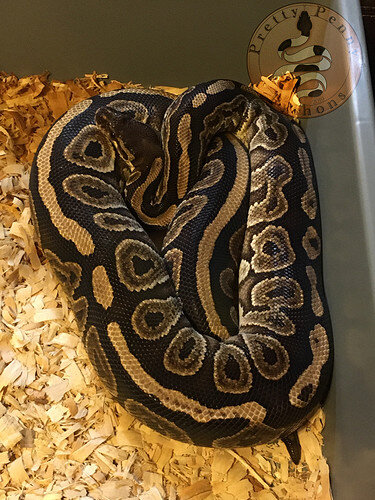 3600g super pinstripe (12 eggs this season)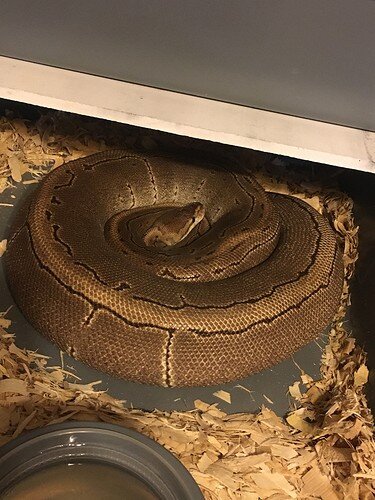 3600g firefly (11 eggs this season)

Very nice snakes! How do you know the super pinstripe is a super? Has she always passed on pins? There aren't many examples of verified supers so I think this is interesting.
She has been bred 2 years in a row and all babies were pins. I bred her last year to a hydra yellowbelly and all 12 babies were pins. Guy I got her from bred her once. Out of 12 eggs only 2 babies made it due to incubator issue but both were pins. She is being bred to banana pied this year so we'll see what happens.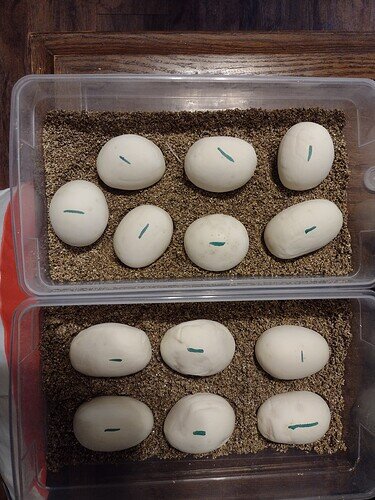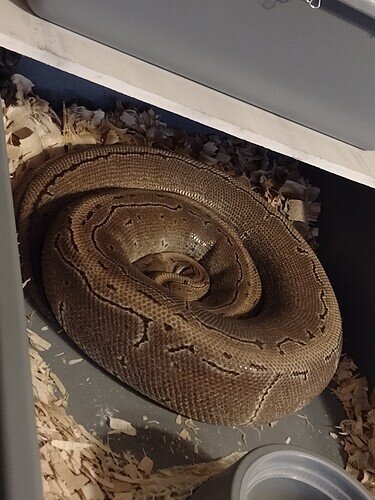 So this is my super pinstripes 3rd season. 12, 12, and this year 13. This year will verify her super status. Every baby she's ever had has been a pinstripe.
Ok. So once again out of 12 eggs…1 egg didn't make it…all were pinstripe or banana pinstripe. All 100% het pied. This is 3 years in a row she's had all pinstripe babies. Now to figure out what to pair with her next year.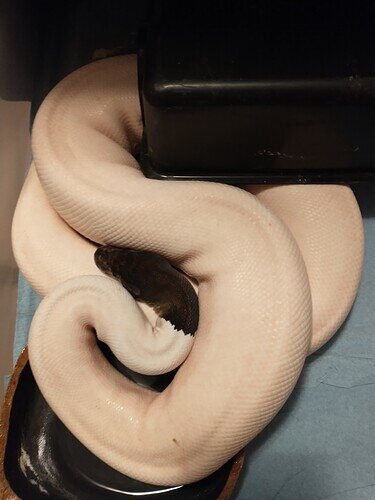 This is Uma my big black pastel pied she is cool seeking and developing follicles nicely. I'd like to see some eggs out of her this year 3200 grams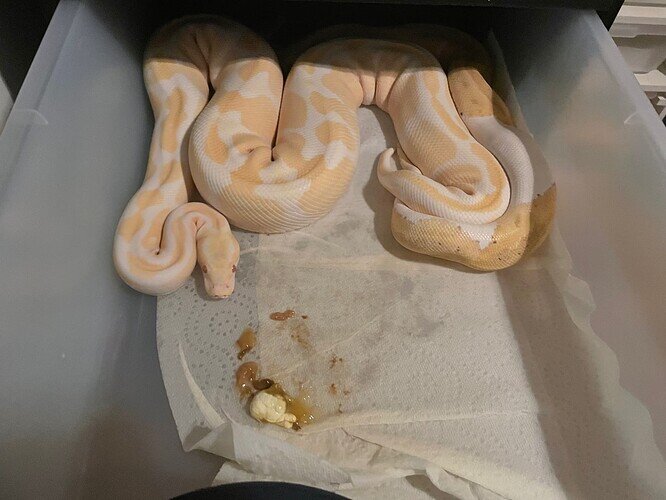 Excuse the mess— I don't have a recent pic of her though

This is my biggest female now, she's an albino and pushing 3200 grams last time she was weighed.
She's also very overweight (I got her like that) so I've reduced her feedings quite drastically to try and slim her down.
Wonder how many eggs she'll lay once I actually get her to breed! She locked with my banana pied male several times but nothing ever came of it.
Next season I'll try pairing her to my cinnamon mahogany het albino male. Hopefully she doesn't retain any sperm