Too fast

Oh this tickled me

I've got a few new pics of Mont Blanc and Tootsie that I thought they were just too cute!
Mont Blanc is being the absolute sweetest thing.
Though I suspect that he's just trying to get me to let my gard down so he can escape again.

My brother managed to get these shots of Tootsie. For someone who claims not to like her, he spends a lot of time taking pics of her…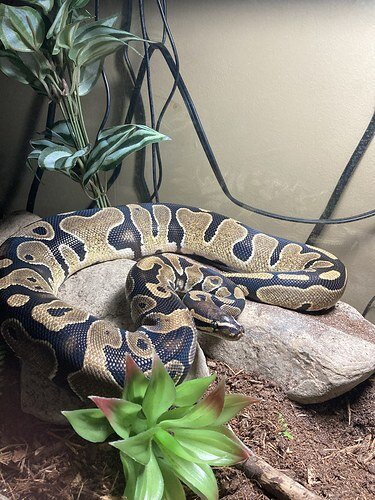 All I got now is my beautiful boy, Dav! Also, I'm not a super good photographer. In a few days when he's in his new PVC enclosure, I'll share another pic!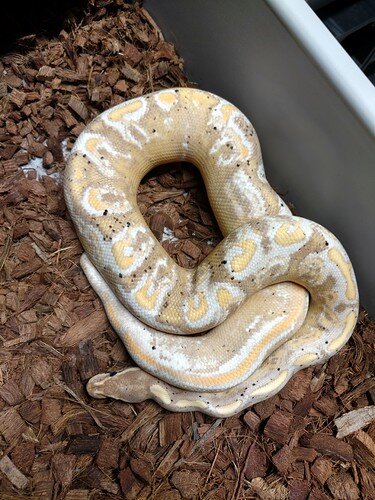 Banana Black Pastel Calico Yellowbelly, he proved it all in his first clutch this year!!! He makes beautiful babies, but didn't get a copy of him. That's ok, we got 1 female banana in the mix.
Wow he is gorgeous! I love the extra white on the top!
Omg I get to update on here tomorrow when my girl arrives!!!

Congratulations! I can't wait to see her. Hopefully that she comes with a better attitude then Blaze had!
6 eggs Total, one passed after hatching so 5 and ratio was 2:3
Paring was supposed to be het clown to het clown to prove out if they were actually visuals we did not get any clowns. so Mom will be going to a visual clown male once she's ready again.
Mom

Dad

Haha I really hope so


I'm done with royals trying to kill me haha
Golden this one, love it

Man he's crazy looking!

Love it
Look who's arrived!!

Meet Rikka!
Now I'm going to call on some helpful people to help me with the pos YB

@akmorphs @t_h_wyman @chesterhf @saleengrinch @wreckroomsnakes not sure who else to ask

Sorry guys but you're the best sooooo

Thanks!

Pretty snake, can you confirm ID or pairing, I forgot 🤦
Dad was a bamboo Mojave yellow belly and mum was a lesser

She is a bamboo pos YB!
Awesome, do you have any pairings picked out yet?
When ready in however many years, she'll be with Blaze (Enchi firefly)

I'm looking forward to that pairing, it should produce amazing babies!
I'm not great with ID, but I'm going to try anyway


I don't think she has yellow belly!
Cool combo, the next few years will fly by🤞