Yeah was explaining no other genes have been produced so she carries no other genes
That makes sense… I just read it the wrong way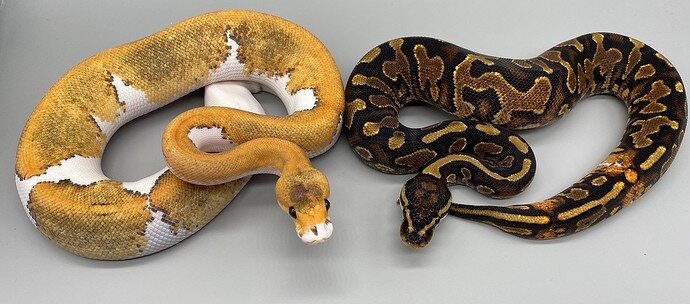 What's the one on the left here?
I'm guessing this is one of the champagne combos.
There seems to be a lot of ringers, has anyone done any Tango Pied pairings?
This is a champagne tango , his gone on to create doubles of himself I've hit 4 of these now , tango seems to enhance a lot of what the genetics do naturally , champagne have ringers sometimes yet with tango you get the orange and extreme ringers , even have ringers on the straight tangos , I have hets growing but still not able to go for visuals yet
Yes, I saw your reply.
I was explaining the reason I had asked it to the other member above
I have to say, I really like what Tango does with champagne.
I'd like to see what it can do with the bel complex family.
Got that combo hatching any day now , leopard tango x bel
You're not sure if it's recessive, incomplete dominant, dominant or otherwise, right?
This occurs with yellowbelly as well.
It is IncDom. It has to be if it is allelic to YB
I do believe I said it's a incdom but not sure weather it has a super right now
Used to be called dominant when I started
I can guarantee there will be a superform
Awesome work. I don't even like champagne but these are gorgeous!
If it's got an ALS with YB, it's highly likely to have an interesting super form all of its own. I'm wondering if it will look identical to the ice way, or if it will be a bit different.
Exactly, super form would have to be possible. I imagine the super would likely be a form of white snake as well if it produced an all white when paired to the ivory.
Most likely outcome is a phenotype that is nearly identical to the Iceway he already produced
Ringer? I'm not understanding, drawing a blank. I know what it is just can't quite remember exactly?

When the white comes high up the sides and sometimes over the dorsal. The one that was referenced is a very high-expression ringer and there're a lot.
Thanks, sorry! I remember lol! Didn't get coffee today and have been working all day, tired.