I know it's way to early given that they are still in the eggs, BUT I'm just stupid excited to have hatchlings. So what do you think they are? Pairing was 1.0 Super Mojave het ghost (poss vis ghost, poss pastel) to 0.1 Banana het Ghost.
Here's the clutch pic: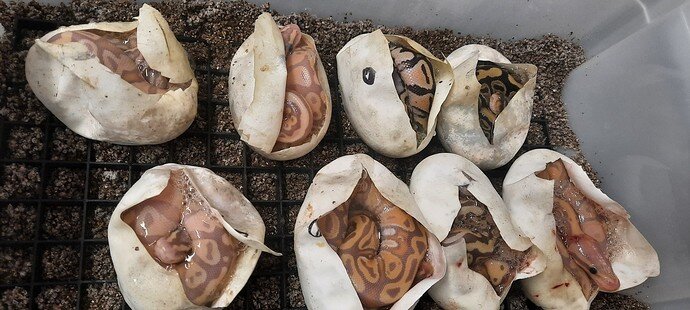 Here's my guesses top right corner counter clockwise:
Mojave (het/ pos het ghost)
Pastel Mojave (het/pos het ghost)
Banana Mojave Ghost
Banana Pastel Mojave Ghost
Banana Mojave Ghost
Mojave Pastel Ghost
Banana Mojave
Banana Mojave Ghost
If you agree with 6 ghosts out of 8, would you conclude the Super Mojave is a vis ghost and not het?
I can't wait to hear your thoughts.
Adam