just wanting to know what other visual is like the clown ball python?
Nothing looks quite the same as a clown ball python, but there's talk that the cryptic gene might be allelic with it. It also breaks up the eye stripes to an extent that most morphs don't.
Justin Kobylka put out a video recently about the Clown/Cryptic/Crypton controversy. Also ya Clown is unlike any other visual gene and it's recessive as well so it takes both parents to make visual so there's generally more work involved in making anything visual.
Billy at Mutation Creations also discussed it
I guess it depends on your definition of "like" is.
TriStripe generates a similar bald back/patterned lateral phenotype. There are some Genetic Black Back lines that are very strongly expressed. And the right combination of genes can sometimes trick even seasoned breeders: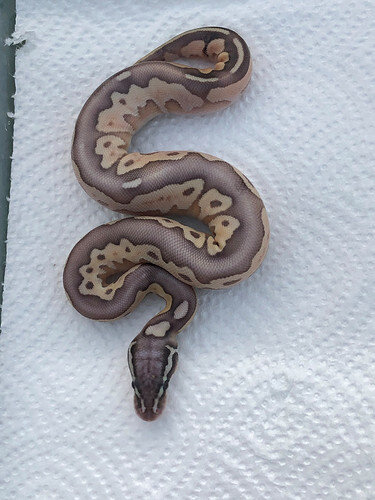 What is this guy Travis? And has anyone tried breeding tri stripe to clown?
BlkPewter Butter Enchi OD. Could have YB too
I think I saw someone trying this in the TS group on FB… But I only drop in there infrequently so I may be misremembering
Man you have a lot of these lol and there all nice!
When you are foolish enough to do a seven gene pairing, sometimes you forget just how complicated it might be when the babies pop out.
One of the YB alleles from the male Ivory that generated the dam for this clutch is also really really subtle, and I am fairly certain that the dam inherited it so figuring out which of her offspring do and do not have it is even more fun…

I can only imagine lol. Your making me want to add some orange dream to my gargoyle projects!!!
What a B E A U T Y! ! ! !
I can't remember where I read it but migraine is supposed to be allelic with clown as well.