So, I'm not a colubrid keeper; but I'm assuming this is a corn snake of some sort.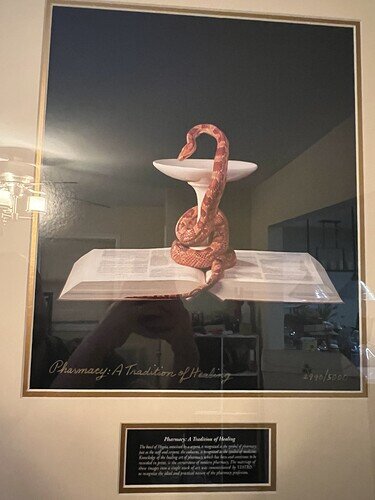 Some background info, my wife got this award her final year of pharmacy school, and the award came with a large framed photo with a snake and a goblet on it. I was just curious if anyone could identify the corn snake present? Is it a normal?
Regardless of what it is, I think the plaque is pretty cool, especially being given to a household that has and breeds snakes.
Edited to add: sorry for the awful photo quality, it's really a high quality picture with my awkward arms in it, not a great angle to get the photo where it's hung. (I think, but could it also be a painting? I'm not sure) the handwritten text at the bottom stating 2990/5000 makes me wonder, but that could just be something done after it was printed?