I love your little guy! What kind is it? Do you know sex? How old is it? I'm so curious!!

I plan to have a tarantula of my own one day- they are really cool! I do have an irrationally great fear of them biting me, so I doubt I'd be doing a lot of handling, but I really do love spiders.
Congratulations on the T!

One day I will hopefully get over my fear of spiders, Its funny I would hold a 16 foot retic with no problem but shiver at the thought of holding a tarantula

@mblaney I don't know sex yet, but it's a avicularia avicularia ( Antilles pink toe) and I don't know age either rescued em from a local petco that was flooded with them. And the aren't best to handle all the time but they tolerate it well, and will usually kick their hairs before biting.
Based on the size, and the toes still being pink, I'd say this is a female, as males tend to be a lot lighter, and more leggy, and the pink toes are pretty much gone after they molt to maturity. As light as it looks, and the way it's abdomen looks right now, I'd say it's coming up on a molt, so now and afterwards, if you can't see any hooks on the innermost legs up front (though they can be hard to notice with all that setae) or emboli (like "boxing gloves on the pedipalps") or it molts and it stays the same color, female. These are awesome, though. I have M6 growing up right now, the changes they go through are pretty amazing.
@wrai i just got another it's really light colored and doesn't have pink toes. Think it's a male then?
It's definitely possible, check for hooks, and the "boxing gloves", to know for certain. Otherwise, sexing by molt is the go to method, just at the base of the abdomen where it attaches to the body, there's distinguishing features that differentiate between male and female. You just need a good way to magnify the molt to see what's what, like a high resolution camera, preferably with a macro lens, or a microscope. The females have this kind of pocket, but it's hard to look for something you've never seen before, so if I have time later, I'll post a picture of an example between the two.
This is an example of a good molt of a female, you can see where I have it circled, the pouch I referred to earlier.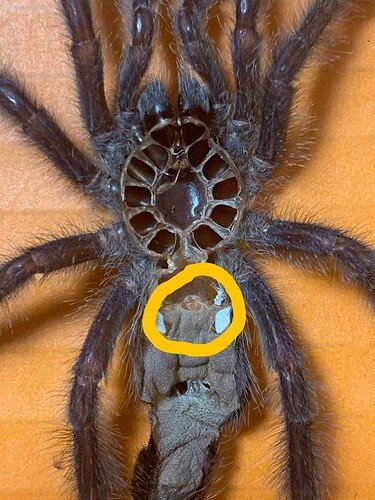 This method is referred to as "ventral sexing", which is the most accurate way to determine the sex of a tarantula, as most species are not sexually dimorphic, and the ones that are typically do not show different colors until after molting to sexual maturity.
Alright thank you, I also found out that they are two different species of avicularia would I still be able to breed them at some point if they happen to be male and female?
Technically yes, but you probably shouldn't, there really isn't a point to creating hybrid tarantulas. I'd just look around locally, add yourself to any local Tarantula/Invert Facebook groups and such and see if anyone has the proper counterpart to both species individually. Breeding tarantulas is a bit of a gamble, anyway, since there's ALWAYS a chance the female will eat the male, and breeding them isn't like with pythons or geckos, you have to stay and observe the process and separate them afterwards or you risk losing the males.
Congratulations on the tarantula!
I wouldn't recommend holding them, they are display pets and unpredictable. I've read countless threads (on another forum) of people who didn't think anything bad could happen, they've handled for a while, and one day the tarantula just decided to bolt and died.
It is also highly frowned upon to make hybrids, since there are so many species it's pointless to try to make more. Especially since the bloodlines get mixed (no matter how careful you are some of the slings will be used for breeding or resold as a purebred). which can result in not being able to find pure tarantulas. Breeding them is very challenging and isn't something you can do without lots of preparation and reading.