So I have a corn snake who's always been pretty odd, and I need some advice on whether his newest behavior is of concern, and if I should try an online vet or get to an in-person one.
I have a corn snake who I adopted from a rescue when he was estimated to be around 5 years old. That was back in 2018, so he's probably reaching about 10 years old now. Since I got him he's always been a chill, pretty lazy snake. He's also had this habit of huffing or whistling whenever he exerts too much energy. It gets worse when he's going into shed, but he's done this for the entire nearly four years I've had him. Here's what it sounds like:
https://www.youtube.com/shorts/4I3igRNcQrk
I make jokes about him not knowing how to care for himself because he would often spend minutes sipping water whenever I placed it in front of him, as if he desperately needed water that had been in his cage the whole time. I'm also unsure if this is a recent development, but he often takes a while to right anything past the first third or fourth of his body. The first part of his body uprights itself without a problem, but if I flip him upside down he just kinda…sits his head upright and looks at me pathetically.
He hasn't been eating super well for about a year, although it's only really gotten concerning in the last few months. He used to be a beast when it came to eating, but he sort of went off food winter 2020-2021 into spring, but recovered. This recent season was a lot worse and he hasn't improved, though. I know male corns can go off food around breeding season, but as far as I know we're well past that and I'm starting to get really concerned for him. He eats occasionally - I don't have any other adults so I haven't been defrosting adult mice for him anymore, but I offer him the next biggest size I defrost just in case and today he ate two fuzzies before deciding he wasn't hungry anymore. He does that maybe once a month? I don't know, he's only been this bad for a couple of months so it's hard to say what his pattern is.
I believe he's overdue for a shed, however for about two years (if not longer) he was shedding pretty frequently for an adult corn. He only had a couple of bad sheds, and his most recent sheds have been good or at least good enough. I didn't do as good of a job tracking his sheds as I would like, so I'm not aware of exactly how long it's been since his last shed, I just know that at least 3 months ago I was expecting him to shed again soon and he just…hasn't.
I also haven't been keeping as good of track of his feedings as I probably should, but I do know that he's been pooping pretty normally. Not that he normally has much to poop out these days.
Onto the more concerning stuff - two things. One, a few days ago I noticed his maybe stomach area seemed kind of red and swollen? I posted some pictures on Reddit that you can search through, but the best photos of it are at the end because I forgot to re-organize my photos after I mass uploaded them, whoops.
I'm checking today and I don't see it at all, but I'm also in significantly worse lighting and its not especially noticeable to begin with, so I'm not sure if its actually gone or not.
And finally, the thing that made me extra concerned - I could see visible mucus in his mouth today while he was eating. I opened up his mouth (a few times because he kept closing it so I couldn't get a good look) and most of the time there was a single strand of excess saliva or no strand at all. I'm not sure, is that normal? My two younger corns are too wriggly and small to do that to (and additionally I already fed one of them for the night, and the other can and will either jump four feet to the ground to get away from me or bite me, probably both, if i tried to do something like that) so I can't compare with seemingly healthy corns. I know excess mucus is a sign of a respiratory infection, I just don't know what quantifies as excess mucus. Here are some photos I managed to snap of his mouth, I apologize for the bad lighting and framing but I live alone so I couldn't get someone else to snap a photo for me unfortunately.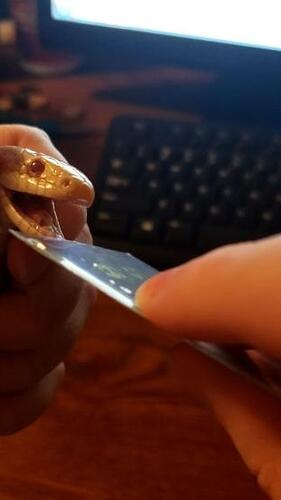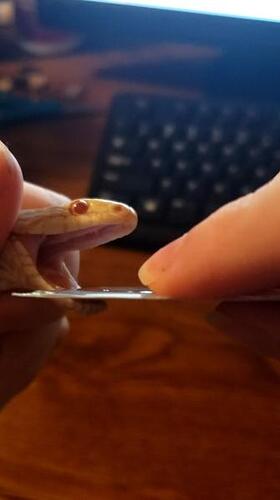 There weren't any bubbles that I could see in any of the attempts to open his mouth that I tried.
I know that the consensus is usually "if you think you need to take your pet to the vet, you should take your pet to the vet" which is a sentiment I respect but I guess what I'm asking here is how urgent it is. I have taken a snake to the vet before, who in fact also had anorexia (but was also younger and ate even less frequently), but I'm not sure if that vet is the best option since we never figured out what was wrong with my first corn and also with the pandemic I'm not even sure if she still works there. If I need to take him to the vet, I'm going to take him to the vet, I just need to know if I can take my time to find the best deal and/or best doctor or maybe even do a teledoc appointment, or if I need to get him into a vet as quickly as possible.
If there's concerns about anything that isn't just airborn (IE internal parasites): I've introduced almost nothing new to his enclosure in almost a year, and it's been almost a year since I got my last corn, who hasn't had any problems (unless you count being mildly spicy as a problem) and whose parents were tested for crypto before his sale to me. Anything new I have introduced was either from another snake's cage (probably still should've sterilized, but again, my other two have had no problems) or washed and left to sit for a while before being put in his cage, and none of those objects were from reptile conventions or even marketed towards reptiles plus they were washed/left to sit with items that went in the other snakes' cages. He spent most of his life at my parents' house, and we moved into an apartment almost a year ago (a year in august). My mom has her own corn snake but he's only missed a meal once (during breeding season while he was in shed) and has otherwise been fine since we got him as a baby about three years ago (january 2020, from an expo). All snakes were quarantined before being kept in the same room with one another, with the exception of the subject of this post because I didn't have any other snakes at the time.
I'm also not sure if he might just be overweight? Or if he's underweight? His body condition…confuses me greatly. Sometimes he looks overweight to me, and sometimes he looks underweight. I saw that underweight triangle shape when I was feeding him earlier because i had him on a flat hard surface, but then normally he looks overweight to me, and even has an indent by his spine. Like this photograph makes him look chonky to me. I was feeding him a bit frequently back when he was eating (a large mouse once a week when he isn't very active) but I'd imagine he's lost weight since then.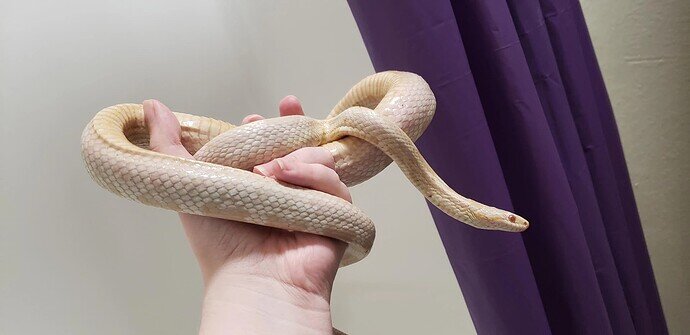 He's kept on aspen with a red light, a setup I'm working on shifting him away from but the CHEs I bought aren't hot enough for his cage, whoops. (I bought too many red lights before I found out they were bad, so of course I did the same thing with the CHEs that aren't strong enough to heat up my snake enclosures! facepalm) In retrospect, he may be blind, either due to the red light or just because he's a snow (possibly both). The rescue I got him from suggested this setup and unfortunately I didn't do my research online, I just accepted it because it sounded the same as what I had heard when I researched for my first corn snake. Big mistake for sure, but I don't see him pacing around anxiously due to the light so I assumed it was fine for a temporary thing. He has two humid hides filled with sphagnum moss that he loved so much they've become his permanent hides. I live somewhere really dry, so I think he needs the humidity, and it's probably helpful even when he isn't in shed, since then he can choose how humid he wants to be. I'm keeping him on a spectrum of about 75 to 85, normal corn temps. I just figured I'd give all my setup specs in case those become relevant.
Any advice is super appreciated. I'd love to be able to get a vet opinion online if that's a possibility, if anyone has a service that accepts snakes for that - but I'm not sure if there are any good services for that so I'll take him to a proper vet if need be. Finances are a concern but I have the means to take him if that's what he needs, so opinions are very much welcome here. I'd also like to have some idea of what I could expect him to be diagnosed with, if anything - I like to do as much research on my own as I can beforehand, just so I know what to expect. Thanks for anyone who's read this far.