It's been just over a month now since I took charge of Pinball, a pinstripe ball python, from my brother. I felt it would be encouraging for me to make a little thread depicting our progress in little journal like snippets. Some days it feels like we're making progress, and other days she strikes me and it's hard not to get discouraged.
My goal for her is to help her calm down from her permanent defensive posture and become tolerant of handling. My brother had only been handling her at his monthly feeding sessions (I have increased her feeding to weekly, as she is far from full size and I have multiple bps from him that I am working to get to an appropriate weight for their age/length/etc).
The past two times I had held her, prior to yesterday, we did rather well. She would spook at any swift movement, but she did not strike out or bite me, which had happened every time prior.

Yesterday, I opened the front of her cage and made no motion to approach her, keeping my hands towards the front of her cage, simply waiting to see how she would take my presence nearby. I noted the defensive posture of her re-curving neck and hoped that if I made no sudden motions, she would not feel the need to strike. Unfortunately, I miscalculated. She struck and got me good. I bruise a bit easily, so today the plethora of small puncture marks have a nice background of light purple. But, the good news is that after she let go, I picked her up and she calmed down relatively quickly. She began to slide through my hands and explore, her neck in a much looser posture, not retaining the tension of a pre-strike position. I held her for about ten minutes with no strikes or bites and then returned her to her cage.
I try to hold her once every three days or so, making sure to give her a break if she is in pre-shed. My desire is to help her see that being handled is nothing to fear and build her confidence, not to make her a better 'pet'. I have put her in a tub enclosure I made, which has opaque walls and back, to help lower her stimulus and hopefully decrease her stress.
So, what techniques have any of you used for defensive or frightened ball pythons? Do you have success stories or did you strike out? Insert people groaning at that terrible pun I'd love for this to be an encouragement for people who have a defensive or unsociable snake, and I'm excited to see how she does as time passes.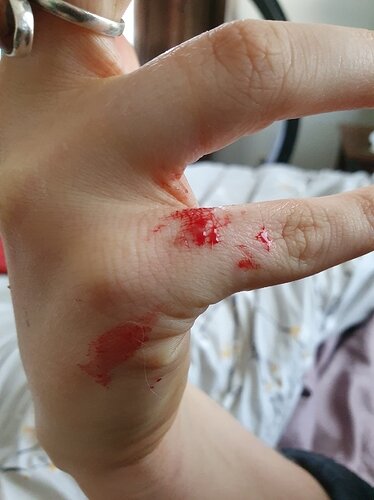 Her bites don't hurt, they just tend to bleed a bit.
Look how gorgeous she is! She is healthy and eats well, so I feel fairly confident that this behavioural issue comes from how little my brother handled her, rather than any health issue.