So I noticed last month what looked like odd lines on my pastel girls head. She's a '22, so very young. It was more apparent after a meal when she gets more red coloration. It appeared to be some kind of injury to me but I never witnessed anything. I was leaning towards maybe something occuring when sliding out her tub; on top of hide or under hide and pulled back quickly. It looked like the scales were almost folded from just behind the head to the center of head.
I decided to wait and see what happened with her next shed. To be safe I pulled the coco chunk bedding, disinfected her tub and rack and got her back on paper towel for bedding. I moved her water to keep humidity a little lower. She shed last week and it was all intact from what I could see. She was in a light phase and it looked improved.
Well she ate a mouse 2 days ago (always F/T over here). She tends to get fired up for a few days after in regards to color and she did. This made it obvious there is little to no improvement from the shed.
I'm hoping someone can give me their opinion on what I could possibly be dealing with here? I've been searching her and all other boas for any signs of mites and have found none. I can feel it, almost scab like on the center of head. The rest of the scales just look folded or dry? I'm starting to suspect some type of bacterial infection. Maybe caused by going to coco chips? I had to dehydrate the brick and am starting to wonder if the humidity was held to high in the tub for too long of a duration. I'd define it as damp for the first 3-5 days.
I'm going to start looking into reptile specific vets in my area to book an appointment. I would still love to hear opinions on treatment options but also treatments to avoid or potential IDs to go into the appointment with as much info as possible.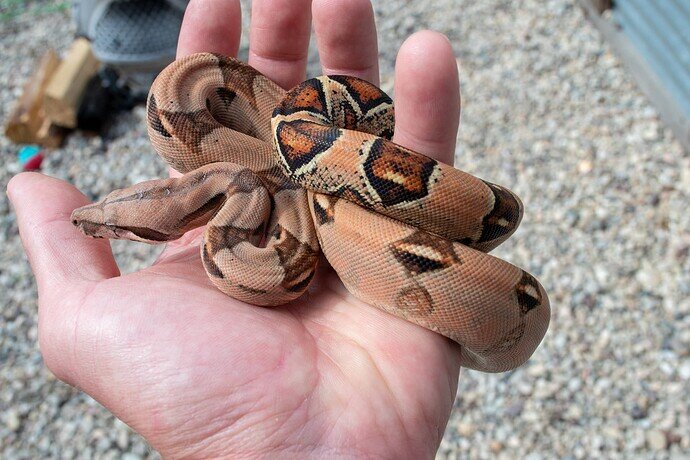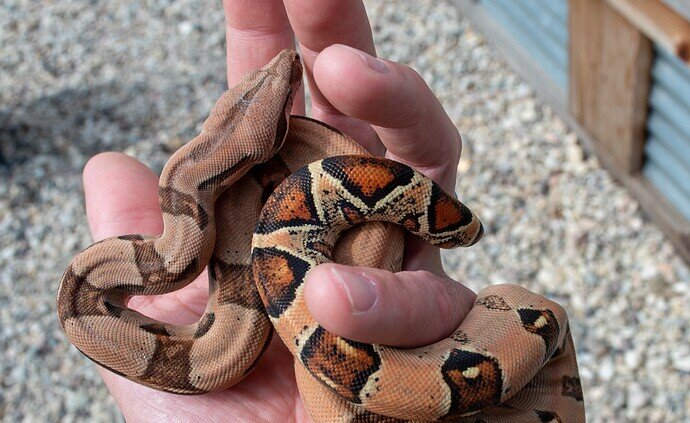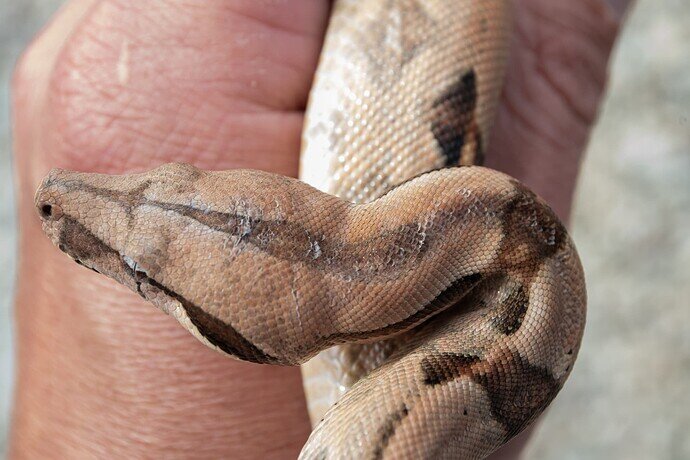 I have older pictures from my phone I'll update from last month. I need to compare how it's progressed either way.
Behavior & Environment
Still eating every 2-3 weeks f/t mouse. Acting normal other than the markings. Showing no signs of pain when touching it, but snakes are pretty tough that way I know. Everything else about her seems normal in regards to bowel movements. No signs of mites in water or paper towel, in vent or eyes. 92-94F hot spot (belly heat) cool end is 73-75F. I looked inside the rack and there is no access to flexwatt above the tub(or any tape) due to how it's routed/woven. I check my racks and cages at least once but usually morning and night for cleaning. Water is changed 2-3x a week.
I currently use 1:10 bleach to water for disinfecting tubs/enclosures after bowl movements. If there is something better, please clue me in. I remove animal to holding tub. Pull paper towel. Spray tub with bleach solution. wipe clean. Rinse with hose. Dry and replace bedding ect.
I hand sanitize between handling animals. Tubs and water bowls are dedicated. Hopefully if this is something bacterial I've kept it isolated to just her.
Thanks for any insight,
Matt