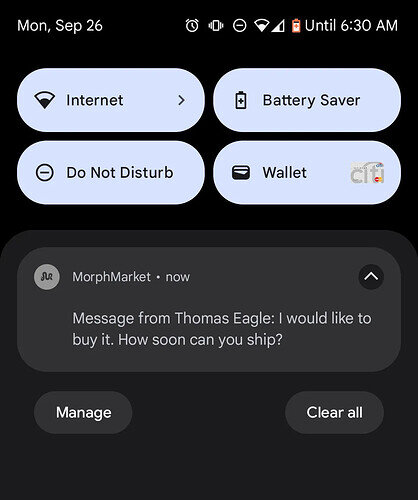 Android users can now download the app from the Google Play Store here. You can also find it in the play store by searching for "MorphMarket ". Apple users: don't fret – the iPhone app is already being tested by users and will be available very soon.
The new app version provides a FANTASTIC feature to the platform called push notifications. Push notifications are the small pop-up messages sent by apps (as pictured). This is a game changer for communication on MorphMarket !
Push notifications will provide buyers and sellers with immediate alerts when they receive messages. This will help you send and receive responses quicker, leading to more conversions. They also link right into our Messenger which provides options not available in email, such as the ability to decline inquiries or block users.
These notifications open up a world of possibilities for other valuable alerts, like when animals you're looking for have been posted on the market or when someone you follow has new listings. These features are coming soon!
If you have already been using the older version of our app (which launched in March 2021), you'll want to uninstall that and get the new one from the app store. You can tell them apart because the older version has a black icon whereas the newer version has a gray icon. You can also see the version under the hamburger menu which is currently v1.0.8.
More details about push notifications:
Notifications aren't sent instantly, but every few minutes.
If you check your messages or reply from email such that the system knows you've "seen" the message, you won't be bothered with a push notification.
You can enable & disable email and push notification alerts for various events under your Settings > Notification Settings options.
If your app is open, touching the notification should go straight to your messenger. We are fixing a bug right now, where if the app is fully closed, it will only open the app and not go to this page.
Let us know if you have any questions!