I just got a carpet python how do you make them friendlier
I don't know anything about carpet pythons but with my ball pythons and burm it's just consistent handling
He has struck at me 2 times is this bad I got him yesterday and today is his feeding day, is it a feeding response. This is his setup he's a big baby about 2 feet long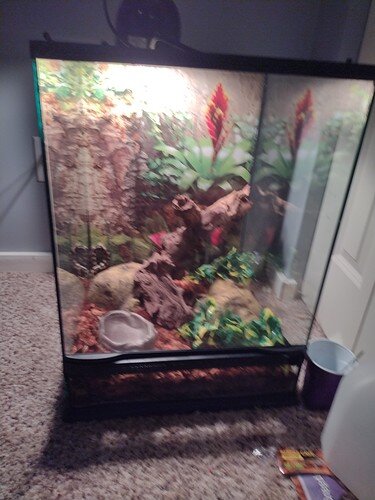 He eats small mice weekly he is striped
And a coastal carpet python
This is the baby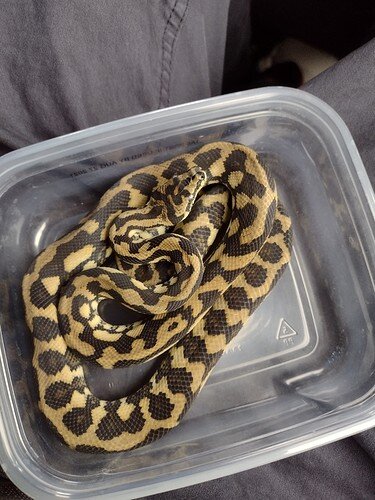 This is a better picture
Any advice on how to calm down a strikey coastal carpet python
Oh and his name is Steve Irwin.
And I would like to see other people's carpet python s if you have them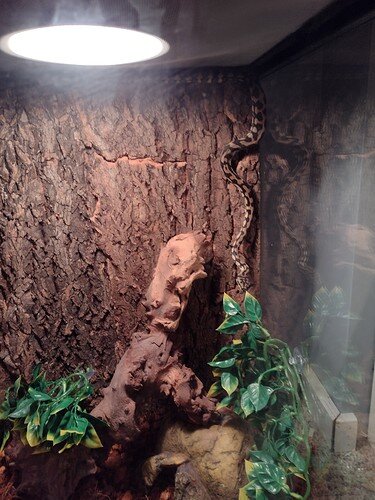 This is the better cage picture
For that setup you need branches/perches. @t_h_wyman can give pointers on a better setup as well. The snake is not aggressive, it is defensive because you haven't given it time to settle in without being disturbed. Now that you have stressed it, you need to leave it alone (no handling either) for 2 weeks.
It isn't a case of calming one down, it is a case of not letting it settle in at all. No handling and no bothering it as already stated. These animals are not like dogs and cats.
I agree, you need to let it settle for 2 weeks without feeding or disturbing. The behavior is defensiveness. Add branches and more cover since there isn't much for an arboreal snake. For right now covering the 2 sides will help it settle down.
I know it was the start I'll get more soon
But should I feed him every week though
Because he wasn't shipped.
No, let him settle in for 2 weeks. Just because it isn't shipped means nothing. It is still a stressful new environment that he needs to get used to. Carpet pythons do not need food every week and won't starve if you don't feed them for 2 weeks. You should have had the setup complete before getting the snake as well.
Feed every 2 weeks, 1.5 times the thickest part of them is the max size you can feed them, any more than that and its risky. Watch their weight. Just because they are fed on a schedule doesnt mean they arent individuals, some get fat easier, dont be afraid to skip a feeding if they are getting too fat. You do not need to feed max size, i only state it as reference so you dont try feeding too big.
As for biting. Dont handle at all for 2 weeks to a month after receiving the snake. Babies are EXTREMELY defencive. As they start getting comfortable and regular feedings (start 2 weeks after receipt). The nipping goes down with age and handling, the bigger the snake gets, the more confident it will be. If the snake is actively angry and striking at the tank, are staring with malicious intent, that is not a good time to handle. You want the handling to be assosiated with exploration for the snake.
While they arent capable of caring for their owners, they learn to tolerate us, and their instincts crave to explore. So if being handled lets them stretch out and move around, they will grow to want the interaction more.
This is all my own observations and what ive heard from others. Im no expert, so take my advice with a grain of salt.
P.s. I love the name!
If he gives you issues with eating, have a 5 gallon tank ready with a couple small hides. Thats a pretty big enclosure for him, so he may feel exposed and threatened, which can sometimes lead to refusal to feed and overly sensitive to things happening around them. I had a baby papuam that refused to feed for a month, moved him into a 5g with 3 hides (they barely fit.) He fed that day. Left him in there for a month to get a few feedings into him, and he can be handled now. Still flighty because baby, but its night and day.
He already ate I didnt know that not to feed but he did take it and ate it and he's doing good I will add more branches and perches
Is it okay if you open the cage to put more decor ,refill the water dish, to see the temperature of the enclosure (I have a heat gun).
Not until he has had 2 days to digest the meal you just gave him.
Since you just said you fed him even though you were supposed to wait. If you don't wait then he could regurgitate the meal. I recommend doing more research on snake keeping since you have had so many questions a beginner should already know before getting their snake.
I appreciate your feedback I do own a couple garter snakes. This is my second snake.
If they ate, awesome! That advice is more for most snakes wont eat immediately after being shipped. No issue.
Oh and he is a striped carpet python he was sold to me as a coastal carpet python, striped morph, male.
The enclosure is 18 18 24 inches btw.