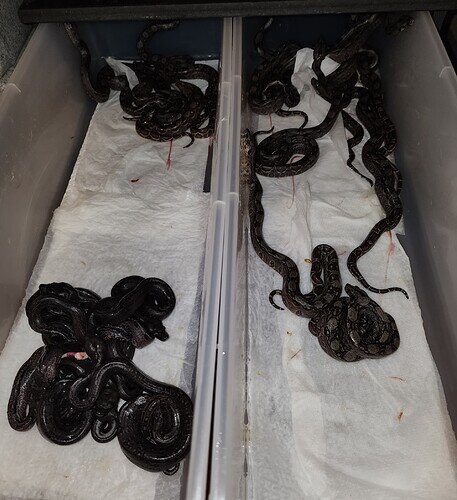 I was right. She had another slug in her. I gave her a few hours to be sure she was done and then a soak while I cleaned her enclosure.
Congratulations, they are so small compared to the type of boas I breed. They are also so dark in color, but I do see some cool patterns in them.
Those look awesome Randall, cant wait to see the dark ones shed.
There's nothing like a big fresh pile of boa babies! I can almost smell them! Lol! Congratulations Randall! Momma did great delivering all those healthy babies! I know they need to shed first but right now they all look like little black beauties! Now remember, we are expecting at least 19 pictures!



Set the little boogers up and sexed them.
2.3 leopards, 10.4 poss hets.
And the last one christened me with a chomp and latch on.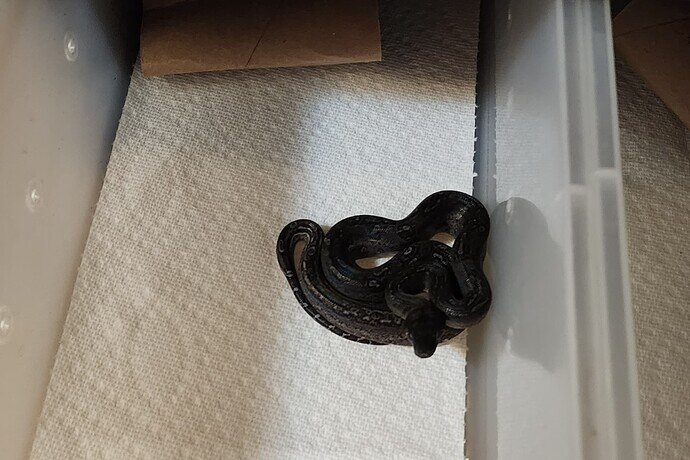 I'll get good individual photos soon. I'm in the middle of a huge rearrangement.
Nuthin like a good ole fashioned boa chomp once in a while!


That baby btw is a dark beauty!


Randall, now you have to keep the one that chomped you.

And I second the motion!

I agree too Randall, that boa was just trying to tell you he wants to stay🤣
Or the Leo can come to one of us

Lol, the biting jerk was one of the female poss hets.
The photos are all way blown out, I've yet to find the right setup for indoor leopard photos that aren't terrible. I'll try and get them outside for some accurate photos soon.

Im interested in these boas one day for sure. They're amazing looking