Beyond just hosting the community, the marketplace will help get its currently little sister site, this forum, going by directing some of its very significant traffic.
You will start to see in the upcoming days some subtle integrations with the MorphMarket marketplace. This week we already added half a dozen links such as from the home page and different spots like the "how to buy" guide letting users know about the community.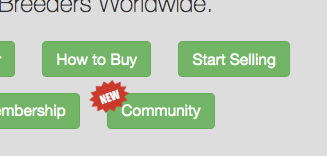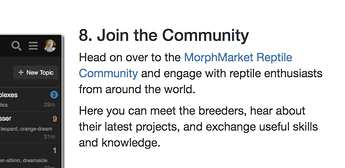 Now we're working on the syndication of content from the community to the marketplace.
For example, on the home page there will be a few titles from recent top posts right under or above the recent blog posts.
We will also add some top posts in category-specific areas on our site. So a few #

carpet-pythons

topic titles would show up down at the bottom of its index page.
We will also begin sharing top post to our Facebook and Twitter pages.
Later, we plan for members to optionally have some of their top posts on their store pages. In a way this provides the capability similar to having an interactive blog on MorphMarket.
All of this is to alert MorphMarket's large user base to the community, as well as to reward our community members with exposure for the quality content you are creating. We envision buyers coming to the community to get to know you breeders in a more personal way by reading about your projects and getting some of their questions answered. In doing so, MorphMarket will provide you another way to build your business.