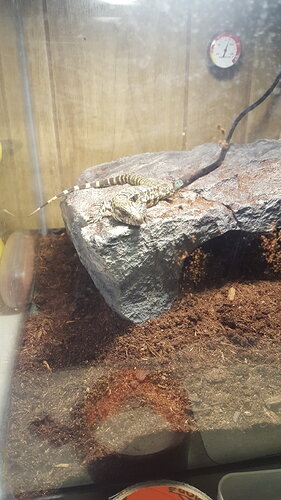 Yesterday we picked up an Argentine black and white Tegu. I couldn't believe it we have been contemplating about getting a blue tongue skink the store had a Marauke in which my wife goes "do you want to get it?" I didn't quite connect to this animal as I was looking at Northerns and the Marauke BTS didn't capture my heart. As we continued looking I saw the sign for the b&w tegu. My wife looked at me and I looked at her we discussed it and we'll when the clerk got the little one out I connected hard core. We named the Tegu Damascus after a metal and we gathered his items over the following couple of days. As the firest couple days went by we were dumbfounded going "I can't believe we just bought a tegu". We proceeded to refresh the research we did prior so we could care for the baby correctly. That being said I still have a question or two:
I have been holding Damascus about 4x a day for 20 min. I plan to increase this time as we are going for good positive interactions. My wife thinks this is too much, but everywhere I look people are stating Handle handle handle to get a well rounded/socialized animal.
We were told by a different store not to get a mister even though humidity is suppose to be 70% we were going to get a herpastat to control the amount that is dispersed.
I am by no means new to lizards as I had a beardie when I was younger and grew up catching/handling wild lizards. I do however understand I have much to learn so if there is advice I am always happy to hear it.
Lastly his diet currently is:
Blue horn worms
Dubias
Snails in a can captive bred
Mush sample that he was fed at the store
Super worms (I'm getting him off of these as soon as possible)
We have a UVB light and his basking spot is set at 115degrees. I wet his substrate and spray down the enclosure as needed (just do not think it's enough). His substrate is about 6inches deep and it's Reptisoil from zoomed. We also got a supplement that was recommended from Rose city reptiles on one of their Vids on YouTube:)