So, on October 15th I found a clutch of eggs in my newly-acquired crested geckos' enclosure.
Both looked fertile, and I was told one of the females I got was with a male previously.
So I incubated them, at around room temperature (72°F-74°F.) One seemed to stop developing early into incubation, but stayed "good" the entire time despite being empty.
The other one, however, has been doing great.
I can see a fully formed baby inside of the egg.
However, it's starting to "sweat." Has been for a little over a day now.
I've done a lot of research, but there's a lot of conflicting information. Some say the sweating is a good sign, others say it's a bad sign, some say the egg should be cut, some say it shouldn't be. Several have waited it out, only for the egg to go bad and the baby inside being dead.
Should I wait it out then? Or try cutting the egg? I'm not worried about it potentially passing, but it'd be really cool to hatch out a "bonus" egg.
Egg sweat: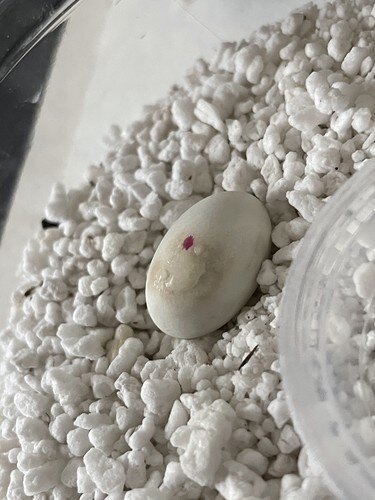 Baby viewed through candling: