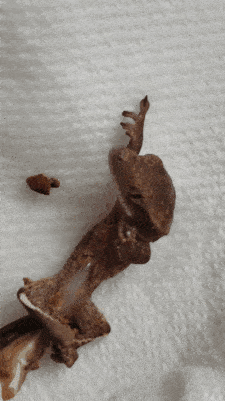 Tonight I had two eggs hatch from a pair of my crested geckos. One of the babies came out perfect, but the other had yolk still attached as well as its heart outside the chest cavity (the condition is scientifically known as Ectopia cordis).
I moved this little one to a sterile mini kritter keeper with clean, damp paper towels. Its egg went with it as its yolk was still partially unabsorbed. I cleaned off the incubating material the baby had on it as best and gently as I could with damp q-tips.
Surprisingly, once I got this little gecko settled on my nightstand so I could keep a close eye on it, it dropped the rest of its yolk and is now climbing around!
I still don't have high hopes of survival, but will keep it comfortable as possible while it is still active.
I have attached photos and a brief video of this little curiosity, please be warned that they may be disturbing for some.
Any insights on care would be helpful, I'll be touching base with my exotics vet in the morning, but I doubt she'll be able to do much outside offering euthanasia. To be frank, euthanasia may be in the baby's best interest should it begin suffer (which it does not act like it is).