Today we introduce "Customer Testimonials" on MorphMarket, a new feature that highlights a seller's positive customer feedback. While all sellers are able to accumulate ratings, the Standard and Premium membership plans now allow a seller to promote several of these ratings directly on their Store Page.
Here's what @osbornereptiles' store page now looks like with testimonials: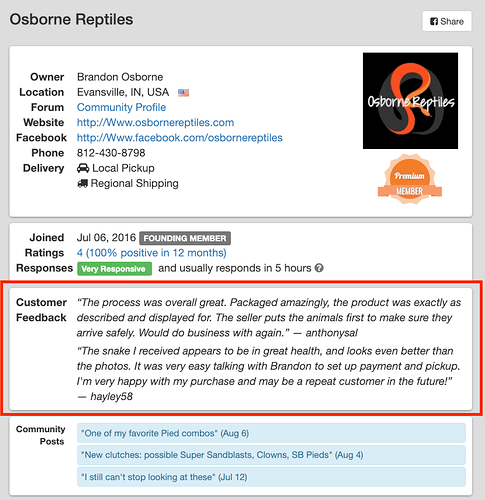 To select the ratings you'd like to promote:
Go to your ratings page (menu -> "Store Ratings").
On the rating you want to promote, click "View".
At the bottom, under "Other Options" check the box and click "save".
If you select more ratings to promote than your plan allows for, the most recent ratings will be used.
If you don't have a membership with this feature, we're sorry it missed you! We're always trying to add more value to each plan, so consider if a (pro-rated) upgrade makes sense for you.