Going off other Enchi Blades I'd say yes, that is one… Enchi Blades on the marketplace though, I could be wrong.
I don't suppose you know the pairing.
Either way though, it's a stunning animal. I love that little hook and cross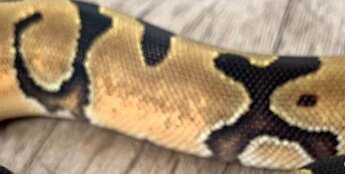 Thank you for identifying, will post the siblings later…



Not sure about blade, but that does not look like a single gene Enchi.
It's pretty reduced but to me and from what I can see it does look like it could be blade also. I find with enchi blade tends to open up that banding but at the same time keeps the keyholes from appearing
Hi thanks. I posted the parent
What a stunner