So i was buying worms for a project and there were refrigerated mantis eggs would they hatch
They should still be able to hatch. Refrigerating just delays their hatching, once taken out of the refrigerator they will continue development and eventually hatch.
Ok i wish only one would hatch so i could have them just theres probably gonna be atleast 50
A lot of them are sold to be released into gardens. So, look into local laws and see if it is legal and safe to release them. You might be able to release them all except a few.
Ok i also have to get permission
Looked it up i need a special permit so i might go to my local reptile shops and see if they want any
You could be brutal about it and let them cannibalize themselves down to lower numbers. They tend to do that in the wild anyway
I'm honesty thinking about it
I didn't know this! Years ago my parents used to call them " praying mantises" or "devil's racehorses". Just a little walk down memory lane!…….

I was never sure if you were supposed to spell it "praying mantis" or "preying mantis." Both kinda make sense, because they hold their raptorial arms in a sort of prayer position…but they also prey on things.

I never thought about "preying mantis"! Glad you brought that up!
And btw @jawramik and @spottedbull
After church I went to get mice for my picky live eaters and came home with this: lol!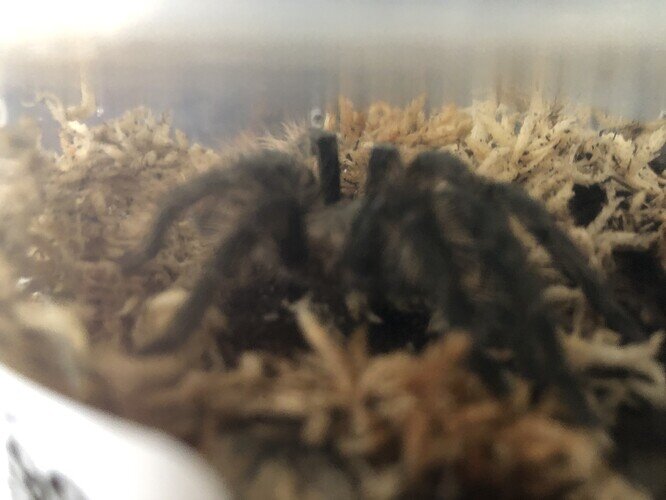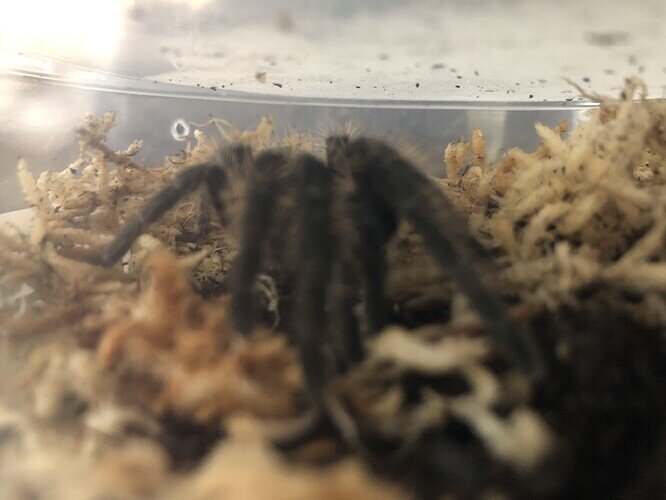 Yes I forgot to include that. I now need to get busy with an enclosure…… I can't believe I did that but the price was right…. Lol!
Eeeeeeeee! That's so awesome, congrats! That's a beautiful tarantula you got, I'm so excited for you!!



Thank you! I have an enclosure coming soon because I was totally unprepared. I am afraid to open the lid until I have something to put him in! Lol! I suppose I am a bit afraid of him for the moment because I can just see him bolting! Lol! So I did the best I could taking the picture in the container for now. Lol! I went ahead and bought him because he was 29.99
I got a couple of pretty good pictures of my jumper Holiday today as well. My brown jumper is coming Tuesday……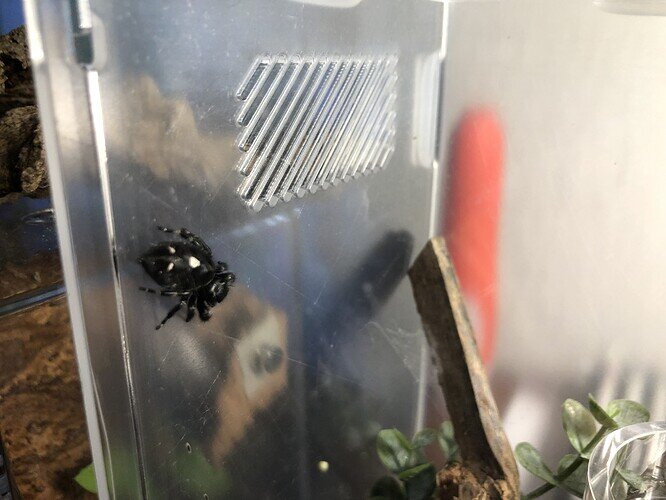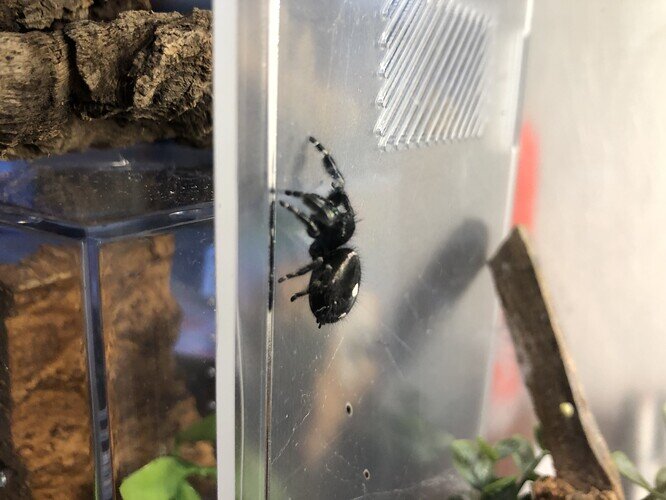 I totally get being worried about bolting! I'm way more worried about my spiders bolting and getting loose in my house than I am about being bitten or haired.
For rehousings or even feeding/maintenance, I put my spiders' enclosures into a larger plastic bin before opening them, just to have a safety net and hopefully be able to keep them contained if they do manage to get away from me. One YouTuber I like suggests putting some loosely crumpled paper towels in the bin too, so if you have an escapee, they'll likely just go hide under the paper towel rather than trying to bolt up the side of the bin (do remember that tarantulas can climb smooth surfaces, just like jumping spiders). I've only ever had feeders escape into the bin, but they hide under the paper towels, which makes them easy to retrieve, so it seems to be pretty effective!
Ok thank you for the tip because I need all the advice I can get! Lol! His/hers? lol temporary home is coming in a couple of days so I will feel better when he has more space than that little deli cup! But they said he would be fine until I got something else…… I hope I didn't make a mistake by buying him on a whim…… do they need to water dish in with them?
They should be fine in the deli for a few days. I would provide a water dish. Plastic bottle caps work great. Maybe a hide too if there's space (could be as simple as a cut toilet paper roll).