Hello everyone! I'm relatively new to this community and I'm currently a new snake mom to a now four month old Pastel ball python named Layla.
In the next few months, I'm hoping to become a mom to a hognose snake! I don't plan on running into getting a new snake right now, I still need lots of information. I know hognoses need very different care than ball pythons, and I'm looking for every scrap of information I can get.
How big of an enclosure is good? Do they prefer tubs or glass? Humidity levels? How big do they grow? Different types of food they eat? Any tips and/or tricks you wished you knew when you first became a hognose parent? Any and all information is welcome, and I hope to share many experiences with everyone!
… Do I need to pay a picture tax?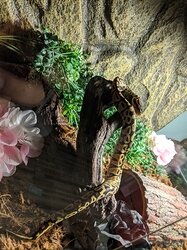 This is Layla about a week into her new home last month.