So I'm bit worried about my brothers snake Amatan.
Shes a year old and weighs about 970 grams.
However, for the past month or so, she's stopped eating.
This also coincides with the odd behavior I've noticed from her since January.
Since January shes been hanging out more on the cold side of her tub and always seems to be elevating herself.
Since shes not mine, I don't check the hot spot but she did have a little probe that told you the ambient temp and humidity which was 72-74 temp and 65-74 humidity.
I think a few more of seasoned folks can get what I'm about to ask; Could she have an ri or is just hitting that thousand gram wall I've heard about?
I've told him he should make an appointment with the vet, but want to ask you guys for a second opinion.
The reason why I personally think she does have an ri is because I caught her doing this this morning: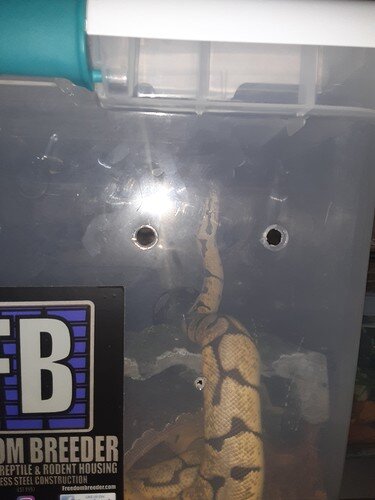 I'm honestly worried for her, but I'm very aware that I'm also a worrywart.
This a long post and I apologize for that.
Thanks for any advice in advance.