Are you housing them together to breed or to cohabitate?
They used to belong to my granddaughter they were separated but I put them together and realized they enjoy being together so yes they are together to cohabitate
What makes you think they enjoy being together? Are they more active or eating better? I'm genuinely curious because it's usually thought of as bad to cohabitate them (since it can result in lost tails, feeding problems, fighting, excess stress, etc.) but I'd like to learn about results of cohabitating leos from more sources. Be sure they're both female because if they are both males they will fight to the death. If one's male it will stress out the female by always trying to breed. If they're both female just keep a close eye on them and make sure they are doing good.
Well at moments they're kissing each other other moments they sleep together other times they're to themselves and the female just laid two eggs 14 days ago the day she laid her eggs he was next to her would not leave her alone the only time I have seen any aggression it's sometimes at feeding she's a little bit more aggressive she likes to eat more and now Mama lays on top of her leg one of the two eggs is no good the other I'm hoping is still okay it looks really good I keep it moist and warm and She lays on that egg everyday
They have been together for almost a year now
It's usually best to keep leopard geckos separately because even after being together for a long time they can fight. But, if you're watching them closely it could work. If you see the male following the female and being close to her too often he could be stressing her out. I haven't heard of geckos caring for eggs, that seems unusual. If you want to give the egg the best chance of surviving you should separate it and put it in an incubator or container somewhere in the tank with ideal temperatures. Otherwise when it hatches the adults will likely eat the baby (I've unfortunately had this happen multiple times with crested geckos). Also, repti-carpet isn't an ideal substrate. I used to use it with my first leo but it was very difficult to clean and having to clean it weekly wasn't enjoyable. Their claws could get stuck in it and it harbors bacteria and needs to be cleaned often and thoroughly. I would recommend switching to tiles, paper towels, or no substrate and if you want having a picture underneath the tank so it looks good… You can use repti-carpet but I personally didn't like having to clean it all the time and it wasn't sanitary.
Also, I think the enclosure looks great, there's a lot of cover and it looks decorative. Adding more, smaller hides might be better but I think what you have looks great.
Thank you I also find it very unusual the way they act towards each other cuz I've been told by others and a pet shop to separate them but I swear to you I watch them constantly I've fallen in love with them because of the way they act towards each other and other than her wanting to eat more than him I have never till this day seen any kind of aggressive behavior towards each other even got better when I bought this new habitat cuz they were both separate into small fish tanks they look depressing here's two pictures of where the one Good Egg is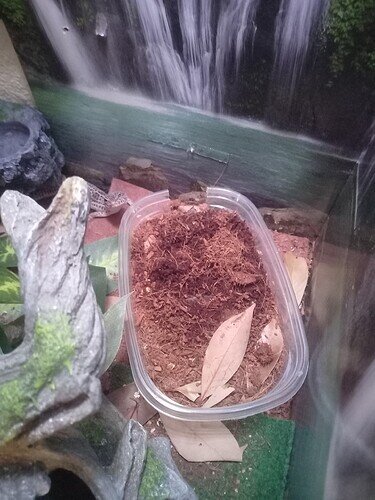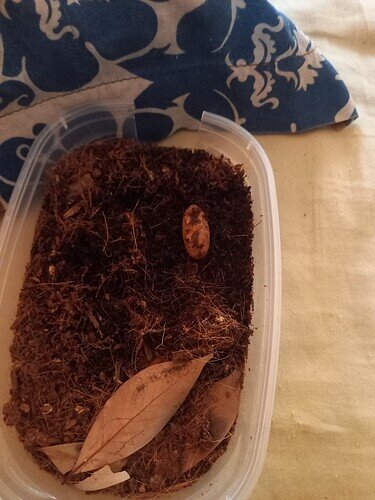 In the picture you can see Mama looking at me as I'm near the egg she's very protective have her egg
Each gecko is different and there's more than one way to keep leos. The egg looks good, hopefully it will hatch. Keep us updated if the egg hatches.
I will it's like I'm waiting for a grandkids I'm very excited and I'm hoping it also survives cuz I am so much in love with both of them that I would love to see their baby
The only thing I'm worried about is the baby hatching and possibly be eaten. If an adult leo sees the baby it will likely try to eat it.
Believe me I know I'm counting the days I know it's between 35 to 89 I have it on the calendar so every day I keep an eye out and I check it just in case
I'm not entirely sure this is true in leopard geckos. Cresteds, yes. Many years ago I had read an article on a study (I think it was performed in Europe) where many Leo's were cohabbed and allowed to breed, then raise the babies. The goal of the study was to figure out how males, especially father to son, would deal with each other in the wild. The outcome was interesting in that the alpha male would assert dominance over the younger males and as long as the younger males stayed clear and didn't try to breed, the alpha left them alone. Granted, I believe the study was done in a pretty large enclosure. I wonder if the study documents still exist.
I would definitely remove the baby after it hatches, though, simply so it doesn't have to compete for food and to give it the best chance of surviving.
Great advice, Erie. And good luck with the gecko colony! Your girl won't stop at 2 eggs.

That's interesting. I'll do some research and see if I can find that article. I still wouldn't risk it, but that would decrease the chance of something bad happening.