Before I buy this super mojave to go with my super lesser male I wanted to get community opinion
No, it is not.
The whitest morphs you can get are the all-white BlkELs and the all-white Pieds
Everything in the BluEL complex will become a more milky/cream colour as it matures
I mean of all the BELs blue eyed lucys. Im pretty sure its the moj/les or maybe super lesser but I dont want to produce bug eyes so I figured I would go with moj/les.
im just not familar with like super butter so wasnt sure
Butter is no different than Lesser. Same morph, different name
Of the BluEL group, the SuperButter/Lesser and most combos with them push toward whiter. They will all, however, develop that creamy colour.
If you had a super lesser and you wanted to produce a clutch of BEL what would you pair him with? And as far as health which is best?
Bamboo, Mojave, or Russo would be my choices.
There are no health conditions I would worry about other than the potential for bug-eyes, which are always a possibility
ok thx. its the same breeder I purchsed the male from so im getting a discounted price.
Any idea what this one could be? almost 1k grams and solid white?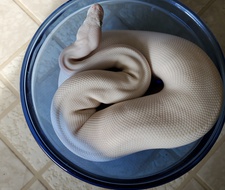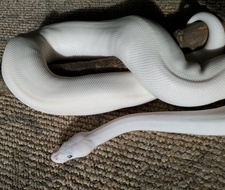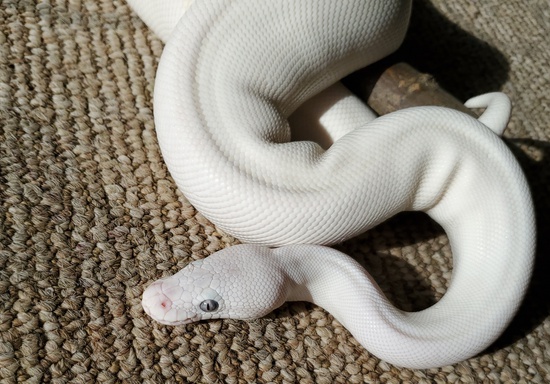 BELs are difficult to accurately id from pictures. Any parent unfo?
If you're getting a similar one for future breeding from the same breeder I'd ask if they're related in any way. At least so you know as you plan things down the road.
Even within the bel complex, I've seen a few lesser/mojave's yellow out, they're definitely not the whitest. Given it's a small sample size but my vote would be for super bamboo, Even super lesser has a better chance of being less yellow than lesser/mojave.
I would go as far to say as impossible! Besides super Mojave's! And super Phantoms crystals and such lol.
I've produced far more bels than I ever wanted to lol! In my personal experiences I find the super mocha to be the whitest. But as pointed out they all yellow out to an extent.
The one on the picture is a rescue so she doesnt know exactly what the genes are but she is very white. She just happened to pop up yesterday when I was going to buy a super mojave that is basically a hatchling
The lady didnt send an invoice and was acting weird so I will probably pass on her.
Interesting thread.
Please help. Sorry, a bit new to ball pythons and want to learn, what's a 'BlkELs'
black eyed lucy. for example super fire
Of course, thank you. And for making me interested in black eyed lucys.
Which one would have less yellow? Which black eyed lucy is the whitest?
also you have red eyed lucy which would be an albino version.
I think it would be the super lemonback or super sauce (thought to be the same gene by many)
As @owalreptiles said, SuperLemonback and SuperSauce have all been reported to be pure white. RDR's line, the DesertLemon, is also reported to be pure white. Most of the SuperMota I have seen have been pure white, I think I remember seeing two with very small yellow patches.
You can also get pure white BlkELs by making combos. I had a stark white SuperFire the came from a FireFly x BellyFly pairing. Not sure what she was exactly but I would safely bet Pastel and probably YB
I've even seen pure white super fires, just overwhelming majority of them are yellow splotched but it defiently happens every once in a while. Kinda like the opposite of a lesser pied, they're normally pure white, but sometimes they have a color splotch.