Is there something wrong with it? Its prices crashed fast.
I haven't had the pleasure of working with acid yet, but I don't think the morph has any issues. Like kinks, neurological, or anything that I know of. Personally I think enough of acid/confusion/static morphs are out there now the prices are coming down, like with many other morphs/genes.
I'll add to that - Acid and Confusion got really popular and a ton of people produced a lot. And then the main hype has kind of left from the dark morphs for now as everyone chases the new shiny thing.
For another data point, the demand for my Black Head stuff has cratered, while stuff like Spotnose Clowns has had pretty consistent interest.
Personally think the demand for dark morphs will come back once everyone's tired of the bright stuff again.
I don't know anything about acid but interesting to read about the light side / dark side balance. Kind of surprised not to see more abyss (GHI super mahogany) by now but maybe trends explain that. Hopefully by the time I can start producing them the dark will be popular again.
Nothing is wrong with it, I think it's just that the prices of most incomplete dominant traits tend to to decrease pretty fast once enough people have it. A lot of people got into ball pythons during Covid and jumped right into breeding, so now with more people than ever breeding prices are going to drop even faster. Add in the fact that the economy is tough, and less people are buying and more people are desperate to sell, prices on many morphs are at an all time low
Yea, i noticed that at the expo. I sold almost everything under 100.00. I had to drop some to what i felt like i was giving them away. A few i didnt mind, but maybe i should have just kept my pastel HRa. I couldn't sell my Desert Ghost, but i wasn't dropping the price. I am happy she came home with me
In my experience they are terrible feeders.
I've heard this rumor too. But I only have a few and sometimes they are eating machines to the point I'm afraid to open the tub on feeding day, and sometimes they go on long hunger strikes. So I'm torn on whether the rumor is true or if people are having confirmation bias to random feeding variation.
Hopefully someone with a large collection and good feeding records can put some data to the rumors
I will say that all the ones I have are a bit more timid/flighty than the average, but I've also had more timid ball pythons than them too. So again, I don't really know if it's actually a thing or just random.
My breeder male is well over 3 years old and probably around 300g. He did manage to sure one clutch in which there are 2 out of 6 surviving acid combos, one of which eats ok and the other is hit and miss. I've asked outers about it and many share my experiences. Love the look but not the behavior.
Wow that's pretty bad. Luckily mine aren't like that. I guess I would say they've grown slower than average though.
I should have an Acid clutch hitting the ground in the next couple weeks. Assuming I hatch some Acids I'll make sure to take records on feeding/weight.
I'm skeptical that when people attach feeding behavior to mutations that they have anything to do with the mutation at all. If there are feeding issues within a particular family of animals I think it is more likely the polygenic bloodline causing that. Outcrossing to bloodlines with strong feeding responses would help counter balance if that theory is correct.
I only have one confusion, he's also lavender albino, blackhead, and het pied. He was a very strong feeder and produced a clutch at a very young age. His second season he went off feeding after much breeding and is now a picky eater. Not sure if that helps or hurts the idea that feeding issues are attached to the mutation, lol.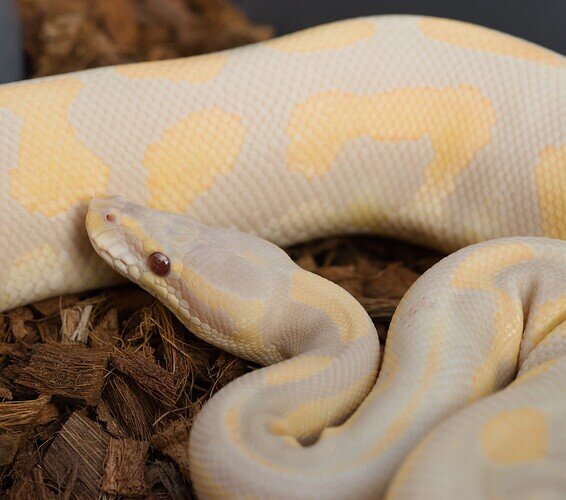 Lets loop in @t_h_wyman
I agree, I've seen numerous posts where people claim their pieds are bad eaters, or their ultramels are grounchy or bananas are something, and inevitebly it doesn't hold true across multiple breeders/individuals who work with the morph. Given that things like being good/bad eaters or personality are likely influenced by everything from genetics to environment to reproduction, I'm extraordinarily skeptical when someone claims a specific morph has a certain propensity towards eating or not eating, or a specific temperament.
The project is fifteen years old… How is that "fast"?
Hilary pretty mich nailed it here



And also here



.
.
.
…
Fully with Ryan on this one:
Honestly, I think this whole "argument" goes back to people totally misremembering and misattributing the origin of the morph as told by Josh. He picked up the founding animal from a guy that claimed it was a problem feeder. Five minutes after he got it home it took a mouse and continued trucking along without issue
From my personal experience - at this point about half of my collection has Acid in it - and I would say only one of them could be classified as any kind of pain in the butt feeder simply because she refuses to take F/T and will only eat live. All the rest will take F/T, P/K, live, rat, mouse, AFS, gerbil, hamster, quail…
To me, problem eaters are individual not morph related. I think if we pooled our information and experience together, every single morph has problem eaters.
But thanks. I was just curious. The prices seemed to crash in weeks
This is universal, not just for Acid.
The economy is in the crapper and people are less inclined to spend on frivolous things like a snakes when all their money is going to necessities like gas and groceries and utilities. As a consequence, people who massively over-produced believing the "free COVID money" train would never end are now dropping prices because they themselves cannot afford to house/feed/keep everything they produced.
Just sharing my personal experiences and what I've learned from others. I love what the gene does and mine came directly from Josh.