You could also make your own hets with her. Only problem is you still wouldn't know what line she is.
Yeah I was definitely interested in the axanthic line anyway so I may invest in a nice male. Not sure if it will be a visual axanthic or het
If you plan to try and figure out what line she is, it would be a lot less expensive if you purchased a 100% Het VPI Axanthic and a 100% Het TSK Axanthic, than a male visual of either line. Those 2 lines are the most common, and I would bet she is one of them.
What's some of the differences in the TSK and VPI morphs?
They look pretty much the same, both are axanthic and there are good and poor quality examples of both. The only difference is they aren't genetically compatible - if you breed a TSK axanthic to a VPI axanthic, you won't get another axanthic, you'll get a double het. Same for all the other lines of axanthic out there, as far as we know, none are compatible thus far
Like @chesterhf mentioned they are basically the same. I can't remember which line of Axanthic seems to brown out a little less than the others, I believe it's MJ line, but that's rare and not a lot of people have it.
The GCR line seems to be really nice, but that is also rare and relatively new to the hobby. I didn't even know it existed until @saleengrinch posted some photos of his.
If you're looking for a good Axanthic, the line really isn't the important part. Go to a breeder who's worked his line to produce the best examples of the Axanthic line he works with. Not all are equal, there are good and bad examples of each line so do some research and try to find a breeder who's Axanthics stand out from the rest. There is one I know but we can't promote other sellers on the forum.
Honestly, if you want to breed quality animals, don't use secondhand stock that you don't know the history/genetics of. All it will lead to is sub par animals that will be difficult to sell. Invest in quality stock directly from breeders, and don't breed questionable animals. As many will say, just because you can breed it, doesn't mean you should. That goes for all animals. Quality stock is what matters most. Don't be like the people that breed Craigslist rejects, as that is basically what you are wanting to do.
I couldn't agree more with the points @ashleyraeanne pointed out.
You want to produce stuff that stands out. There are so many Axanthics that people work with and produce each year. You want produce quality hatchlings, know the correct line, and who it came from, otherwise you'll have a hard time selling them. Unless you want to unload them for less money and that at times can be a warning flag to potential buyers.
I definitely appreciate the info from you guys! Also I talk to the guy at the pet store again today and he said originally the snake came in as a pair. Unfortunately the male escape in the store. But the female im interested in was worth a lot of money supposedly $1600. He was trying to just sell it because in his pet store he 95% deals with aquatic fish. Which was what I originally went in there for lol
Not sure if a pic of her head will help. I've seen in certain threads mentioned about head stamps. Not sure what to look for.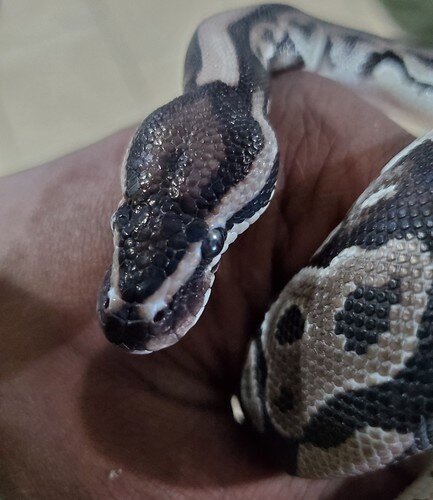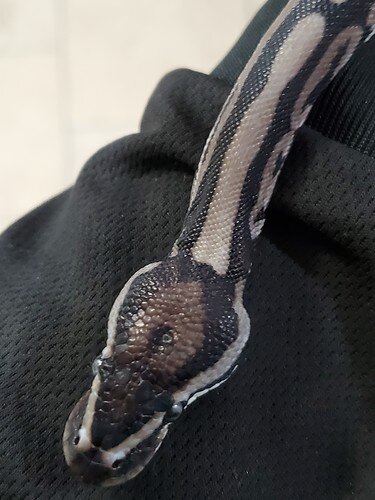 She is a nice looking axanthic, but unfortunately there's no way to tell what kind (and likely not worth anywhere near $1600, because I don't know of any axanthic line selling for that much)
Yeah I think he was just throwing a priceout out there or maybe that's what the other person paid for the pair because he honestly couldn't remember.
You can definitely play around on MM and look through the different types of axanthic and see what you think, but I can't think of any way to prove what type she is short of proving her out. You're just going to have to figure out if it's worth it to you

Not to be rude but he was probably just trying to get a sale. As it's unidentified it might not even be worth a tenth of that. I think the best thing is to see if you can identify it, if it's unidentified it's almost worthless as a breeder for high quality.
As far as proving her out would I just have to breed her to the different lines of axanthic?
Hey no worries I definitely understand! I have some friends here at a local well know pet shop that I purchased from they know I've gotten addicted so they be trying to talk me out of getting stuff lol. I just figured for the price it is a steal especially for a female and she's visually an axanthic. I know finding out her exact gene will be hard, but would like to have her in my collection
Yup, one by one. I'd start with VPI since that's the most common, followed by TSK
Yeah I've seen a few im interested in already lol