Hi everyone,
New snake owner here. I picked up a pueblan milk snake recently at an expo, but not directly from a breeder, so I didn't really get much info on it, and I didn't realize until I got home that it wasn't a "normal". Most of the black bands seem to drown out the red on this one, so I guess it's a morph.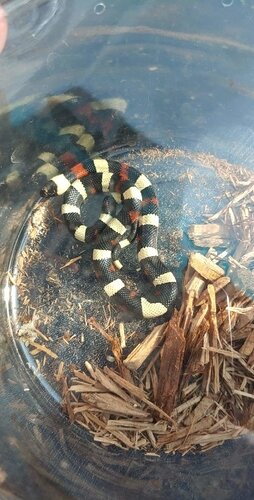 Is this considered an "Oreo" pueblan milk snake? Or "Halloween"? (Or is it not a pueblan at all?)
Also, does anyone know of a place where I can research pueblan milk snake morphs specifically? To my newbie eyes, the "halloween" morph looks like a mix of this one with the dark/wide black bands and an apricot. But I'm not well-read on morphs yet, and the pueblan milk snake is not as popular as ball pythons or corn snakes, or even Honduran milk snakes, so resources seem more obscure. Any links to more info would be appreciated!
Lastly, and this is a long-shot, but with that little bit of tail showing in the photo can anyone hazard a guess whether it's male or female? It's settling into its new home, so I don't want to handle it just yet to get a better photo or look at its tail. I totally understand if nobody can tell–after all, I can't tell either, and it's not the best photo.
Thanks!