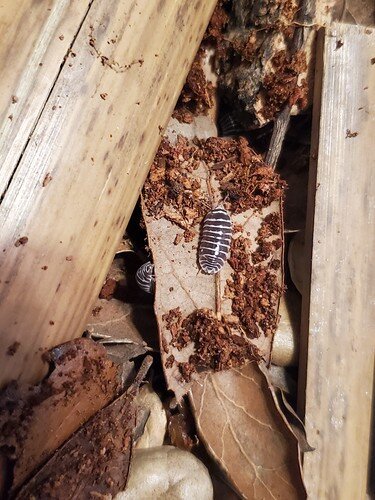 My zebra isopods (Armadillidium maculatum) arrived yesterday! Like other Armadillidium species, they can roll up into a ball
One day I hope to have a bioactive setup- isopods are so cool!! Maybe in the bottom of an arboreal gecko's setup? I assume different isopods have different ideal husbandry conditions, but are there 'beginner' species?
Does anyone happen to know if isopods can cohabitate with millipedes? Every now and then I find mid-size millipedes on the asphalt of my apartment complex's parking lot looking a bit worse for the wear but not quite out of the game, and I was thinking of setting up a tub for slightly wounded millipedes to retire in.

A couple easy isopod species to care for would probably be dwarf white isopods and blue powder isopods.
Housing millipedes and isopods should be fine as long as they don't have too big of a difference in size. If you plan on the millipedes breeding the isopods will eat the eggs and babies. When you cohabit them you don't want overly aggressive isopods which is why Armadillidium species would probably be best as they're calmer.
If co-habbing with other inverts, stay away from Porcellio species. They will eat the other inverts when they molt. I agree with @erie-herps that Armadillidium species are a good choice.
I'd say Armadillidium species are beginners in the sense that if you lift up a rock or fallen log, you'll likely find a whole bunch of Roly polies (Armadillidium Vulgare is the most likely species atleast)
If I put isopods in w my beardie, will he just eat them all? Will they eat his waste? Leftover veggies?
A thread the other day sent me to the BioDude's site, and I am now quite seriously considering more of a biome for Flokei, the lizard…
Now I have to study up on the whole bio-active thing. So, THANKS whoever that was!
If you put isopods in with your beardie you need to give them things to hide under (example: Leaf litter though I'm not sure if that works in a beardie tank), they'll eat his waste and probably also some leftover veggies. When you go to add isopods you need to let them reproduce for a few months or else your beardie will eat like the ten in there or however many and they won't be able to reproduce.
Isopods generally do not do well in desert setups. They have gills which need to stay moist for them to be able to breath.
Currently, the boy lives on a play sand substrate. But, I'm intrigued w "the Dude's" Terra Sahara which looks like it must have some carbon content to it.
(If I'm not allowed to link to that, I apologize. Feel free to censor as necessary…)
For desert species, you'd want a soil mix that's ~60% topsoil and ~40% play sand. I also mix in some coco fiber. Entirely sand is a general no-no as very few desert reptiles available in captivity live on entirely sand (I think some uromastyx do? But don't quote me on that.) I'm planning on using these guys in a bioactive for my leopard gecko Munch Mouth because Armadillidium species are typically more tolerant of drier conditions and leopard geckos do use humid hides. In my experience with bearded dragons, they don't care for humid areas. Your best bet with isopods in a dragon's setup would be a deep substrate so the isopods can burrow to get the water they need to breathe. Cork bark flats and sphagnum moss will be your friends, you can cover the moist moss with the flat to keep it from drying out too quickly and give the isopods a place to hide
Not to mess with the thread, but I felt that I had to point out how glorious this name is! With a name like Munch Mouth, those isopods better be fast!
They don't have to be too fast, Munch Mouth is determined but not very smart thankfully
As long as you are not advertising a product or company it is fine

.
Product reviews are also allowed as long as it's clearly not a advertisement or endorsed.
@arcanicdragon What kind of care is needed to start a zebra isopod colony? Do they need any special minerals or substrates or would this work in a 6qt tub with leaves, rotting wood, and some fruits and vegetables?
I'm not familiar at all with that brand, my substrate is a mainly topsoil mix that has sticks, roots, and clay already in it (it comes from those $1.50 40lb bags at Lowe's, iirc what it's made of depends on your area.) I also mixed in the coco fiber the pods came in with, but iirc straight coco fiber creates an acidic environment that pods don't like so don't over do it. The biggest problem people have with Armadillidium species is letting them get too dry. I have an area that is mainly moist spaghnum moss and I mist the entire tub once a day. You'll also want to add springtails to an isopod bin to help keep mold down, too much mold will kill your pods.