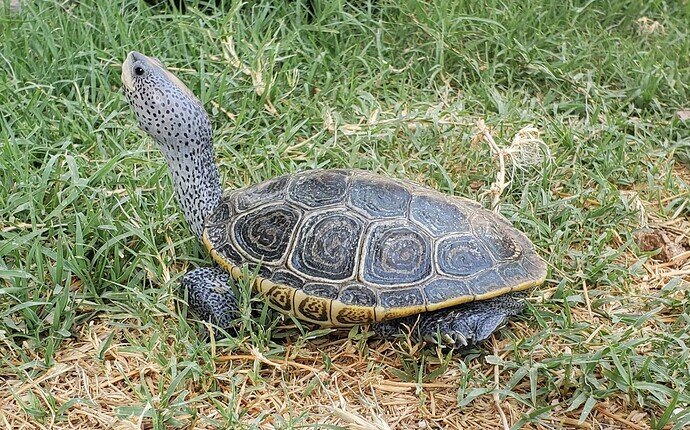 So it's been about a month, I think, since we found Dragonfruit. He's a really personable little guy! I can see why it's very easy to overfeed this species. Every time he sees me, he will come swimming over as fast as he can to check my fingers for treats. I did a little research on what treats are appropriate for him because the food I bought came with dried mealworms and shrimp (which he loves!), but those aren't the best for them. I ended up purchasing some black soldier fly larvae, which have an appropriate calcium to phosphorus ratio, so I can feel a little better about giving him one of those more often. (He loves those too.) He is not a fan of any type of vegetable!
Figuring out water quality is an ongoing learning process. I have him set up outdoors in a 110 gallon stock tank with a homemade filter. Although the tank is on the shady side of the house (only gets a couple of hours of direct sunlight in the middle of the day) and it also has a sunshade over about half or two thirds of the water, the algae has taken hold! That alone, I don't mind so much, but the water is also cloudy, which I really don't like. The filter is rated for 550 gallons, and I hand skim debris out of the water every day. And I also do partial water changes every week. I did my first full filter clean out yesterday and I was very surprised to see that the sponges I used as one part of the filtration process were completely worn down! So I've replaced those with big Home Depot sponges.
Anyway, I haven't owned a turtle since I was a kid, and although I loved that turtle (he was a red eared slider), he did not love me! I had to always keep my fingers free of his front end so I wouldn't take a bite. This little guy will definitely bite you, but only because he has a very strong "fingers = food" association. It's actually quite funny, when I'm changing water or skimming, I have to constantly push him away from my work area. Sometimes I'll let him walk around the yard, with me nearby to supervise and he'll actually follow me around.