My first setup was home built melamine racks. Wasn't the greatest but they worked
Good racks are expensive. Im gonna try to make some soon. Material and tools add up. Probably wont save money. lol
Materials are quiet a bit more expensive now than they were when I built mine. I kept them until I worked my way up to some PVC and ARS racks
My melamine racks were fine. Really good at insulating heat and holding temps. (saving energy and cost) Also they create a good light gradient. Some of them were from when I used to keep snakes a few decades ago, and they are still good. (so are the tubs)
Also you can make the heating as you wish. e.g I chose back heat so snakes dont have to sit on a specific temperature for a third of the floor with heat mats, but have a better thermal gradient with the back heat.
Only drawback is that they are too heavy. So I might build any more from plastic.
Anyway, here are just a couple I made. One is on top of the other now.
15 liter on top x 9.
4 x 25 liter then
2 x 33 liter.
(that's one rack, I have others.)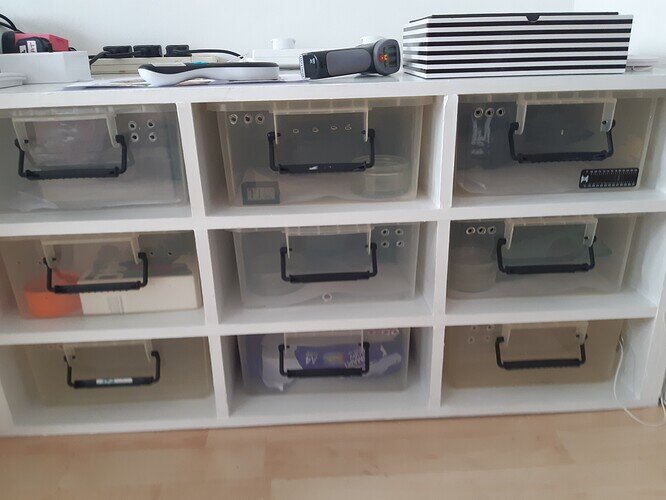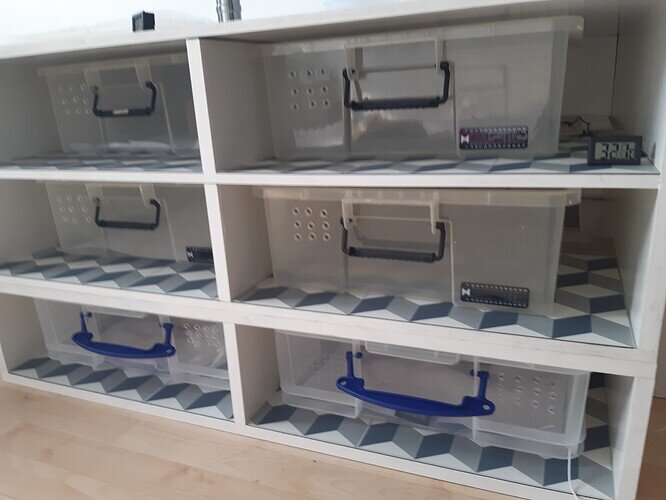 Mine swelled after awhile and made the tubs hard to get in and out but mine weren't as nice as yours lol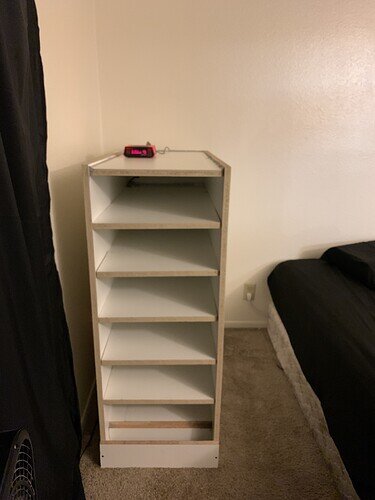 This was my first melamine set up, it was heavy, the tubs didn't slide out right, I just hated it all the way around (I'm no carpenter) since I bought all professional made racks and I'm glad I never tried to make a rack again
Like I said, mine have lasted decades, a tip to avoid warping:-
Seal the internal corners with something like aquarium sealant. If water can not penetrate into the non plastic bits of chipboard (where you have cut it) you will get no warping.
On another note, Melamine chipboard is a lot more expensive now than when I built the old one, at least here in the UK. Although its still cheaper than commercial rack systems.
I don't have any of my melamine racks anymore I tossed them out when I got my ARS. I'm not sure which one was heavier lol but it served its purpose pretty good. If I would have sealed them like you said they would have probably lasted longer
@blacksmokereptiles
I hope to toss my old heavy melamine racks out one day too-- when I can afford it.
I still would prefer a system with clear tubs (so I can see in a bit without disturbing them) but with 5 out of 6 sides enclosed for heat and energy conservation and a nice photo gradient like my melamine racks .
I dont know of a system that offers that, maybe I will have to build a plastic equivalent.
But if anyone knows of a system that meets those requirements, let me know.
Your snake room is looking great! Big changes from a year ago. Congrats!
I also see multiple boxes in the incubator


If I can ever get my truck back from the mechanics shop , I'll be able to finish my incubator build.
Like I've told my mechanic, a carpenter without his truck is called unemployed

how it was in the olden days
So this reply is to my new morden racks posted above. Quite a difference back in the day. (the picture is a scan of an old chemical photo if your old enough to know that existed before digital)
Here is where I started breeding last centaury over 30 odd years ago. Hand made stacking vivs. all had a shelf,
The two light bulbs were for heat. Both blue 25 watt so don't get bright or hot enough to burn, (the rack of vivs in a built in cupboard conserved and shared heat)
one tungsten bulb set on a mechanical day timer with thermostat day temps, and one set on night timer a bit cooler. (initially on bi matalic strip thermostats as opposed to electronic). Once dimmers stats were available the old tungsten bulbs lasted for well over 10 years at the lower dimmed voltage) The night one also worked as a back up in case the day bulb blew.
Check out the old skool printer paper substrate with holes in it for moving in the printer. yes that's what old computer printers were like before PCs were readily available.


The water bowls have not changed over time though. Interesting to see what has changed as technology progresses and and what has not.
The picture just shows corns, but i breed all sorts. Well it worked very well, even for old technology.
But as you can see from my other post above, its good to move with the times.