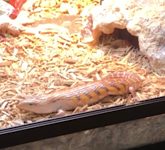 (Better pictures to come—I didn't want to disturb her for too long with the camera, haha.)
At last, my skink is home!

I appreciate so much how helpful everyone has been in providing me advice as I set up! "Nova" just finished up her (most likely a "her", lol) first meal here, and is now hanging out on her slate tile, enjoying a nice, post-meal bask.

I've been monitoring temperatures and humidity, and things are going pretty well overall! My only remaining quandary regarding the set-up is the fluorescent fixture…
It's an Arcadia T5 linear fluorescent fixture, and covers around half of the 48" of floor space. I have it mounted to the inside of the (mesh top) enclosure, which is 24" in height. I've checked it with a solar meter, and it's running smoothly and putting out the appropriate levels of uv, exactly as described. The only issue is that it needs to be closer to the ground.

At its current height, I'm getting around 0.7-0.9 on the solar meter at the level of the substrate, and around 1.5-2.0 on top of one basking spot (the other is at ground level). Recommendations I found for northern bts were between 2.0-3.0.
Nova seems to prefer the floor-level platform, so I'm a little concerned about her getting enough uv. How can I lower the lamp? I've seen mounting hardware for fixtures in general, but I feel unsure about what will fit my lamp, specifically? Is it safe to lower a fluorescent fixture in a reptile's enclosure? They don't try to reach/mess with them, do they? Bts are generally terrestrial, so I kind of doubt it, but… I thought I'd check—better safe than sorry.

Alternately, would it be easier/better to get a stronger bulb? I bought the one recommended for the 2.0-3.0 Ferguson zones, as directed… but would the next step up serve the same purpose if mounted further away? Or would there be other effects (too bright, maybe?) that make the "Desert" level bulbs unsuitable for a bts?